Things You'll Need
PVC pipe cement

PVC pipe primer

PVC female adapter (size of your current PVC pipe)

PVC adapter nipple (goes from PVC size to garden hose size)

Teflon plumbing tape

Garden hose valve (size of your hose)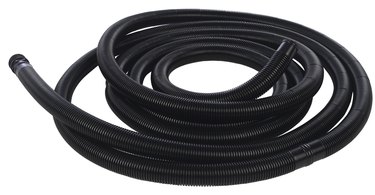 If you have a PVC water pipe in your yard for connecting a stream pump or a rain barrel to your garden or maybe to bring water from your house to your pool, you will want to connect it to a regular garden hose so you can direct the water where you want. One of the interesting things about working with PVC is figuring out how to connect the various sized pieces. There are several connectors you will need, specifically a female adapter, an adapter nipple and a hose valve. Once you know what to look for, they assemble easily and will work beautifully.
Step 1
Check the measurements of your garden hose. They vary in size from thinner 1/2-inch hoses to the more rugged 1-inch hoses. You will also need to know the measurement of your PVC pipe. There are hundreds of different sizes of fittings, so you will need to know what you are working with before you try to purchase your supplies.
Step 2
Do a dry fit first. Slide the female adapter onto the end of your PVC pipe. Screw the adapter nipple in and then the garden hose valve. Everything should fit together without any effort.
Step 3
Take the fittings apart and then prime the outside of the end of the PVC pipe and the inside of the female adapter. Let them dry for a few seconds and then apply the glue. Slide the sections together immediately.
Step 4
Prime the end of the female adapter and the inside adapter nipple. Apply the glue and screw together. If this is not a permanent connection, you can use Teflon plumbing tape instead by wrapping it clockwise three or four times around the female adapter threads.
Step 5
Screw on your garden hose valve after wrapping the adapter nipple with the Teflon tape. Your connection is now ready for your garden hose. Since you added the valve, the water can be turned off and on at the connection.