Homemade soap is an ideal birthday present, teacher or hostess gift, or wedding shower favor. Glycerin soap base comes in a few different varieties, such as honey, aloe and shea butter; most soap bases come without added colors or fragrance. You can easily personalize soap with fragrance oils, colors, and even names and short phrases as shown here.
Learning how to make your own sassy, catchy soaps is incredibly easy and only takes a few soap making supplies. Soap making and cleaning up will never be so fun. After making this DIY, you won't be tempted to buy store-bought soaps again!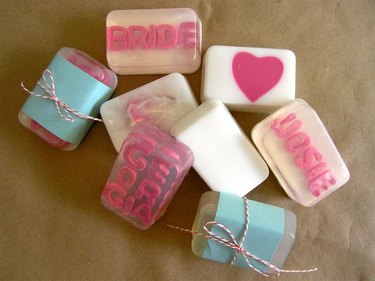 How to Make Soap With Colors and Scents
You can make colored, scented soaps with melt-and-pour glycerin soap base, soap coloring, essential oil and soap molds. Any heat-resistant, nonstick silicon mold will work.
Melt the base over low heat. Glycerin soap base comes in a few different varieties, such as honey, aloe and shea butter; most soap bases come without added colors or fragrance, but you can include additives of your choosing to personalize your soap bars.
To determine the amount of glycerin to melt, consider the size of your soap mold. The mold used here yielded 12 soaps, each 2 inches by 3 inches by 1 inch. One-fourth of a pound of soap base will make three handmade soaps of this size; one pound of soap base is enough to make all 12 soaps of this size.
Transfer the melted soap to heat resistant container, such as a paper coffee cup, to add coloring, fragrances , or additives such as oatmeal and natural exfoliants such as loofa.
To add a scent to the soap, place 3 to 5 drops of essential oil (try almond oil!) per 1/4 pound of melted soap for a lightly fragrant soap. For a more fragrant soap, add more essential oil, little by little, until the desired fragrance is achieved.
Tip
Stir in your extra ingredients carefully to avoid trapping air bubbles in your melted soap mixture.
To color the soap, add a few drops of soap dye to lightly color 1/4 pound of melted soap. The more dye you add, the darker the bar of soap will become. Lavender (shown here) is made with 2 drops of red dye and 1 drop of blue.
Mix thoroughly and pour into molds. Allow soap to set for several hours on a flat surface or place mold in the refrigerator if you'd like to harden the soap faster.
Tip
Spray the top of the filled mold lightly with alcohol to help reduce air bubbles in your soap and provide your finished soap with a smooth finish.
How to Spell Out Words or Make Shapes in Your Soap
1. Melt Opaque Glycerin Base
Melt about 1/4 of a pound of opaque white soap base in a double boiler melting pot on low heat.
2. Add Color to Your Liquid Soap
Add a little color, if desired; just be sure it's not so dark that your shapes and colors aren't visible. To add color, transfer the melted soap to a mixing container, add a few drops of color and stir. This color was made with 20 drops of red and 5 drops of yellow.
3. Pour Soap into Shallow Mold
Pour the soap into a shallow tray, plastic box top or Tupperware lid. The tray shown here is a turned-over serving tray with a lip. A thin layer of soap no more than 1/4 inch high is best. Allow the soap to harden for about 20 minutes at room temperature. Place the tray in the refrigerator if you want the soap to set faster.
4. Cut Out Letters and Shapes
Once the soap has cured, cut out names, words or shapes with small letter cookie cutters. Set the shapes aside.
How to Make Homemade Soap: Putting it All Together
1. Melt Clear Glycerin Base
Melt clear soap base over low heat. Once melted, pour this clear soap 1/4 inch into the molds and allow to set for about 15 minutes. You don't want the soap to completely harden, so do not place it in the refrigerator. You want the soap firm enough to hold the letters, but not completely solid. This step can take some practice, so practice with your first batch.
2. Arrange Letters on Clear Soap Base
Arrange the letters and/shapes in the molds—positioned as a mirror image—on top of the pre-poured clear soap. When finished, the bottom of the molds will be the top of the soap.
3. Pour More Soap to Cover Letters
Pour more clear soap over letters. The soap must be warm enough to pour, but not hot enough to melt letters. This step is a bit tricky and requires a little bit of patience and practice. Reserve a few molds to practice until you get the hang of it.
4. Add Opaque Glycerin Base
Fill the soap molds completely with clear soap base. Or, stop 1/4 inch from the top, allowing the clear soap base to set and then pouring a layer of opaque soap over the clear layer. Allow the soap molds to harden for two hours. Now you have your own soap!