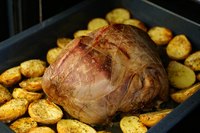 A venison round roast is taken from the rear haunches of the deer. It is one of the cuts that can be cooked by any method you choose, but like most deer meat, it will benefit by braising. Because venison is a lean meat, braising can help the meat from drying out and becoming tough. Other cooking options include roasting and grilling. The key to cooking a tender venison round roast is not to overcook the meat; serving it at medium will ensure a moist roast.
Things You'll Need
Slow cooker
Meat thermometer
In the Oven
Season the round roast with salt and pepper, if desired, and place the roast in a roasting pan. Other herbs can be used also. Try using ground rosemary, thyme or powdered onion or garlic. Most beef barbecue rubs can be used on a venison roast, as can pre-packaged steak seasoning blends.
Preheat the oven to 325 degrees.
Roast the meat, uncovered and with no additional liquid, for 20 minutes per pound or until the meat reaches an internal temperature of 160 degrees F or higher.
Braising in a Dutch Oven or Slow Cooker
Place the seasoned roast in a Dutch oven or in the slow cooker. If the roast has a bone, place it in the pot bone-side down.
Add 1 cup water to the pot. Alternatively, add 1 cup beef broth, wine or apple juice.
Cover and cook over medium-low heat for 1 to 2 hours on the stovetop or 6 to 8 hours in a slow cooker. Test the temperature of the meat at the thickest section. The roast is ready to serve when a meat thermometer reaches 160 degrees F.