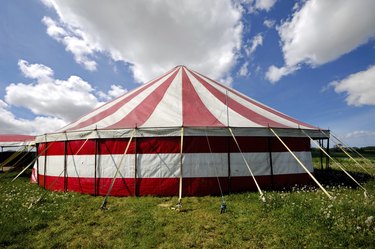 A circus-themed party for adults is a magical way to celebrate a variety of events from an adult's birthday to an anniversary or even a wedding. Make your guests feel like they are at the greatest show on earth by creating a multi-sensory experience with colorful décor, vintage circus music, the smell of fresh popcorn and food that transports your guests right under the big top.
Admit One to Your Circus Theme Party for Adults
Create an invite that looks like a show ticket to set the mood for your circus party. List all the pertinent information and mail invitations three to four weeks in advance, or six to eight weeks if it's a wedding.
Requesting guests to dress in theme—whether a ring master, a clown or a sequined trapeze artist will add to the drama and excitement of your circus theme party for adults. You can use old circus sayings such as "Ladies and gentlemen" or "Step right up" on your invite to further evoke the feel of a circus spectacle.
A red and white stripe tent set up in your backyard makes a perfect location for your circus-themed soiree. If hosting your event outdoors is not an option, then improvise by attaching striped fabric to the center of your ceiling and draping it outward to meet the walls, creating a tent-like feel. Use bunches of helium-filled balloons tied together with ribbon on tabletops as centerpieces. To add to the overall vivid color statement, use brightly colored table cloths, napkins and serving trays for your circus them party for adults.
If your budget allows, hire performers such as a fire-eater, gymnasts, a juggler and clowns that can create balloon animals. Create a photo booth by placing a camera with a self-timer on a tripod in front of a large circus-themed poster. Have amusing props on hand like top hats, red clown noses and bright feather boas so guests can create a photo keepsake. Give out bags of cotton candy adorned with personalized labels as party favors.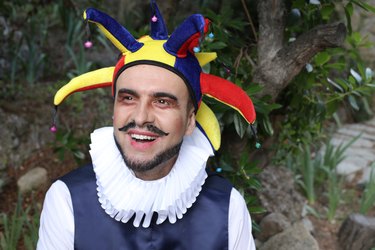 Bring authenticity to your affair by serving food that is straight off the midway. Rent a popcorn machine and serve freshly popped popcorn in striped boxes. Caramel apples are simple to make at home by combining brown sugar, corn syrup and butter in a saucepan and bringing to a boil. When a candy thermometer reads 248 degrees Fahrenheit, take the pot off the stove and stir in condensed milk and a splash of vanilla. Dip your apples into the mixture and then roll in chopped nuts. Allow the treats to cool on parchment paper before serving.
To create tasty mini hotdogs on a stick, wrap cocktail wieners with refrigerated croissant dough. Bake these in the oven until the dough is golden brown. Insert a stick in one end of the cooked dog and serve with a variety of condiments such as yellow mustard, ketchup and pickled relish. Another concession stand favorite, peanuts in the shell can be placed in bags on your buffet table.
Serve an array of delectable cocktails to complement your multi-hued decor. A blue lemon drop is made by mixing two parts vodka to one part blue Curacao orange liquor. Add ingredients to an ice-filled cocktail shaker to blend. Strain into a sugar-rimmed martini glasses and garnish with a slice of lemon. A green apple martini is made by mixing vodka with apple liqueur and a splash of sweet and sour mix. Strain into a martini glass and garnish with a slice of green apple.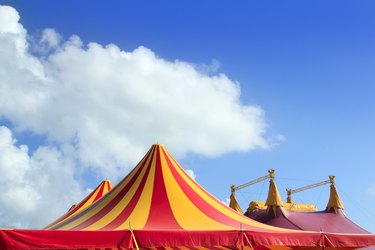 To make a cosmopolitan, mix vodka, orange liqueur, a splash of cranberry juice and a squeeze of fresh lime juice. Shake over ice and strain into a cocktail glass garnished with a lime wedge. Complete your drink set-up with non-alcoholic beverages such as bottled water and tangy pink lemonade.