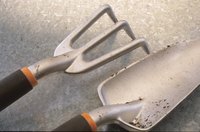 Anasazi beans were first planted by the native people of the Four Corners region of the United States. Anasazi beans are versatile and flavorful. These beans are easy to grow, drought tolerant and sweeter than the pinto bean, and they cook faster with no soaking. You can plant successive crops for use as both green beans and dried beans.
Things You'll Need
Plant the Anasazi beans by a fence or a trellis, as they climb vigorously. Beans should be planted about 1 1/2 inches deep and spaced about 2 inches apart after all chance of frost has passed. Lightly cover the seeds with soil. Keep the soil damp but not soaking while the seeds sprout.
Thin the seedlings to 4 inches apart when they get their second set of leaves. Continue to water the bean plants biweekly. Again, keep soil moist but not soaking wet. Encourage plants to climb the fence or trellis by gently winding vines around the wire or supports as they become long enough.
Harvest the beans in late fall. Remove them from the pods and let them dry. Store them in a cool, dry area before cooking.