Things You'll Need
Slow cooker

Barbecue rub

Sugar

Salt

Pepper

Paprika

Garlic powder

Onion powder

Red pepper

Cumin

Chili Powder

Oregano

Green chilies

Jalapeno

Celery

Carrots
A succulent pork shoulder roast can be a feast in itself, but it can also be a dry mess if it isn't cooked correctly. Using a slow cooker is an excellent way to cook a moist and delicious pork shoulder, and it couldn't be easier.
Slow Cooking
Step 1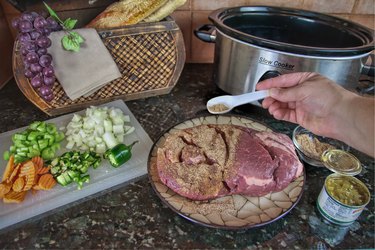 Season your roast. The possibilities are endless. If you are making a roast for a barbecue or picnic, you may want to put a barbecue rub on your pork shoulder. Mix together sugar, salt, pepper, paprika, garlic powder, onion powder, red pepper and dry pepper, and rub onto the meat. Let it set in the refrigerator for at least three to four hours.
For a southwest-style pork roast, add salt, pepper, cumin, garlic powder, onion powder, chili powder and a pinch of oregano to the roast. Place it in the slow cooker, and add a chopped onion, a can of chopped green chilies and a jalapeno.
For a dinner roast, simply season with a little salt, pepper and garlic powder, and add a chopped onion, chopped celery and chopped carrots to the slow cooker with the roast.
Step 2
Place the roast in your slow cooker, and add additional ingredients if necessary. Cook your pork shoulder roast on low for 6 to 8 hours or on high for 3 to 4 hours, depending on the size of the roast. You should not need to add any liquid to the roast, as the meat should create its own juices as it cooks.
Step 3
Serve barbecue pork shoulder roast shredded and layered on soft buns with a side of bottled barbecue sauce. Shred southwest style roast, and pile it in soft tortillas, or mix it with salsa for a spicy main dish. For a dinner roast, remove the roast from the slow cooker when cooked, and let rest on a cutting board. Transfer the juices from the slow cooker to a pan, and create a quick gravy. Slice the roast, and serve it with slow-cooked veggies and mashed potatoes with the pork gravy on top.