Things You'll Need
1 tbsp. onion powder

1 tbsp. garlic powder

1 tbsp. black pepper

1 tbsp. dried parsley

Bowl

Aluminum foil

Roasting pan

Fresh pork picnic shoulder

1 cup water

Meat thermometer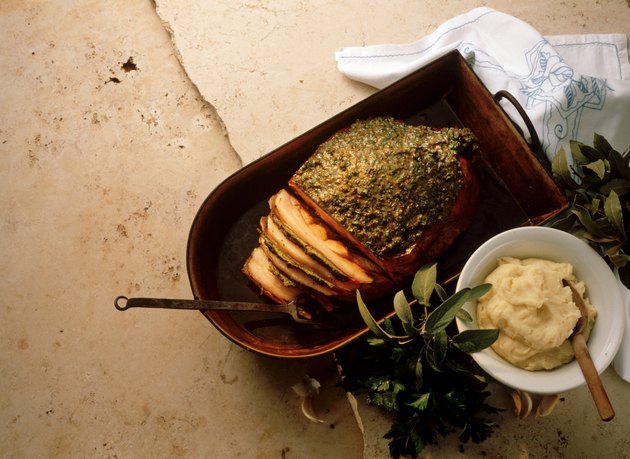 A fresh pork picnic shoulder is not cured or smoked and has a higher fat content than other cuts of pork. The picnic is also a tougher piece of meat, which means you can usually purchase it for an inexpensive price. Pork shoulder does well when slow cooked, such as in the oven, causing the meat to become fall-apart tender. Once the meat finishes cooking, you can serve it as is to your family or use it in a variety of recipes.
Step 1
Place the rack on the lowest bracket in the oven. Preheat the oven to 350 degrees F.
Step 2
Put the onion and garlic powder, black pepper and parsley into a bowl. Stir with either your fingers or a spoon to combine the spices together.
Step 3
Line the roasting pan with aluminum foil to keep cleaning the pan to a minimum. Place the picnic shoulder in the pan, keeping the side with the most fat facing up. Add a cup of cold water to the pan.
Step 4
Pour the spice mixture over the shoulder, rubbing it as evenly as possible over the tops and sides to coat the pork. However, seasoning is not required to make a picnic shoulder taste delicious.
Step 5
Insert a meat thermometer into the thickest part of the shoulder. Cover the meat tightly with aluminum foil and then place in the oven.
Step 6
Cook your fresh picnic shoulder for 20 minutes per pound or until the meat thermometer reads at least 160 degrees F. Take it out of the oven and allow the meat to cool slightly before eating.