Things You'll Need
28 foot extension ladder with leveling feet

Ladder stabilizer

Exterior paint

Paint roller and covers

Paint brushes

Paint tray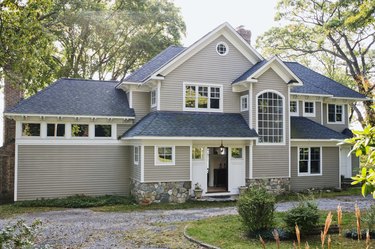 Repainting a home's exterior creates instant curb appeal. It is an inexpensive way to update an older home, and provides new protection for a house whose previous paint is peeling or flaking. Painting the ground floor is easy, but many homeowners are unsure how best to paint the second story.
Step 1
Begin the project on a sunny day with temperatures of at least 50 degrees Fahrenheit. Try to choose a day with little wind, which can destabilize a ladder. Schedule your time so that the paint can dry for at least three days before rain or freezing temperatures are predicted.
Step 2
Rent or purchase a 28 foot extension ladder. Look for a ladder that has leveling feet, as the ground is generally uneven. Choose a solidly constructed ladder that can easily support your weight. A stabilizer adds safety and security but is not required.
Step 3
Extend the ladder and carefully lean it against the roof. The bottom of the ladder should be roughly one quarter of the ladder length away from the wall. Set all braces and locks before putting weight on the ladder.
Step 4
Take your paint tray, roller and brushes to the ladder shelf. Make two or three trips if necessary. Have a helper hold and stabilize the ladder while you climb.
Step 5
Paint the areas that you can comfortably reach from the ladder. Do not overreach, which can cause you to lose balance.
Step 6
Move the ladder as needed to easily access all parts of the house. Climb all the way down when you need to refill the paint tray, rather than attempting to pour paint while on the ladder.
Step 7
Work from the top down. Paint soffits, fascia and other trim before moving on to the walls. Complete the second story on one side before moving down to the lower section of that side. Try to finish an entire side in one to two days to avoid lap lines caused by paint curing at different times.
Warning
Working at height can be dangerous. Take your time and do not overreach.