Hosting a dinner party for friends is fun alternative to going out. Whether you choose to serve a formal meal or request that each guest bring a dish for a potluck dinner, hosting a meal at your home is economical and often more relaxed than eating in a restaurant. Choosing a theme, such as an Italian dinner party, sets the tone for the evening. Sending out invitations that reflect your theme will give your guests an idea of what to expect.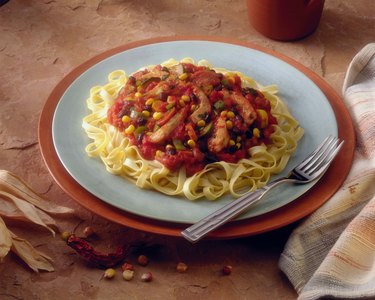 Things You'll Need
Envelopes

Pen

Stamps

Guest List

Invitations
Step 1
Decide on whether you want to purchase store-bought invitations, make your own or simply send an email invitation to your guests. Email is acceptable if the evening will be casual, but paper invitations are preferred for fancy affairs.
Step 2
Pick an invitation design that reflects Italian culture. Images that show bottles of wine, garlic, olives or bowls of pasta let your guests know the kind of food you will serve.
Step 3
Write a headline on your invitation. Use Italian words or phrases so that your guests immediately know the dinner party will focus on Italian food. Some examples are: "Join Us In Our Cucina," "Buon Appetito," "Mangia! Mangia!" and "A Taste of Italy."
Step 4
Write a brief introduction. Something as simple as "We invite you to share an authentic Italian dinner with us" will make the theme clear to your guests. You may want to choose more casual wording for a relaxing evening. An example is, "Mamma mia! We're cooking up some fun." Be creative and make sure your words match the tone of your party.
Step 5
Include the party details. Give out your name (or the host's name if it is someone else), the address where you'll host the party, your telephone number and your email address. Remember to include an RSVP date if you need a head count before the day of the party. The RSVP date should be three to four days before the date of the dinner party.
Step 6
Ask each guest to bring something different. Dinner guests inevitably want to bring something, so feel free to specify what you need. For example, ask different guests to bring bread, wine, an appetizer or a dessert. Encourage them to be inspired by Italian cuisine.
Step 7
Include directions or a map if your guests are not familiar with the dinner party location.
Step 8
Stuff the invitations into envelopes, address them and add a stamp.
Step 9
Mail the dinner party invitations two weeks before the event.
Tip
Instead of an introduction, choose a favorite quote about food, family and friends. An example is this quote by George Miller: "The trouble with eating Italian food is that five or six days later you're hungry again." A quote like this sets the tone for a fun, relaxed evening.