Things You'll Need
Steel lintel

Flashing

Installation bolts

Brick saw

Mortar

Masonry trowel

Measuring tools

Level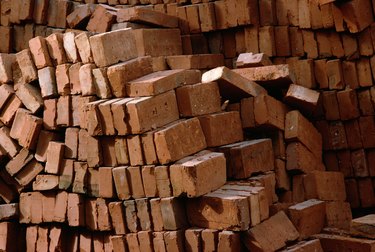 The basic installation of brick around a window is not anymore tricky than installing brick for the wall area. You will need to add some support over the top of the window and cut bricks to get a proper fit around the edges for a clean and professional appearance. Use a level and measurement tools to keep the brick straight and the correct size for a smooth window opening that blends with the rest of the wall.
Step 1
Lay bricks to about 12 inches from the bottom of the window.
Step 2
Install a steel lintel above the window with installation bolts to support the weight of the bricks over the open space of the window. Select a length of lintel so that it overhangs a minimum of 4 inches on each side of the window.
Step 3
Install metal flashing over the top of the lintel to prevent water from entering between the bricks.
Step 4
Install the bricks below the windowsill so the long edge is set vertically to create contrast at the window opening and so the outside top corner slants outward at a 20 to 30 degree angle to repel water. Install the bricks in the same manner as the other bricks on the wall, with about 1 inch of mortar between each brick. Smooth the mortar between the bricks with your finger for an clean, attractive look.
Step 5
Install the wall bricks up to the windowsill bricks, measuring the open space and cutting some bricks smaller to make them fit properly. Install bricks along the side of the window so they are set with the long edge horizontal, in the same manner as the rest of the brick wall. Cut bricks to the correct measurement so they fit flush with the window opening for a smooth edge.
Step 6
Apply mortar on the lintel and flashing above the window opening with a masonry trowel and install bricks over the top of the window in a horizontal pattern the same as the rest of the wall. The lintel blends into the wall as you install bricks over the top of the window and finish the area.
Tip
Check the levelness of the brick installation as you work by using a level often to keep the wall and window area straight.