Things You'll Need
Strip of wood, ¾ inch by ¾ inch and 1 inch shorter than the laminate seam

Hammer

Nails

Laminate T-molding, length of laminate seam and shade to match one shade of flooring

Screwdriver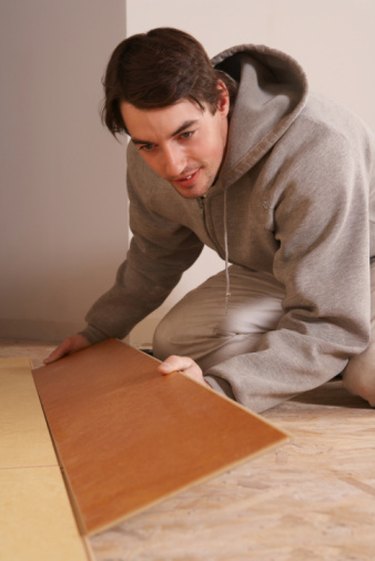 If you're adding a second laminate floor to a room that already has laminate installed on half of the floor, you may be concerned about joining the floors. Because laminate is available from a variety of manufacturers and each maker has several types of flooring, two different laminate floors cannot be a continuous installation, but you can connect them without too much difficulty.
Step 1
Nail the strip of wood into place along the edge of the first laminate flooring, taking care to leave 1/2 inch of space at either end for ease of removal. Take care not to hammer the nails flush with the surface of the wood strip, because you will be pulling the strip up later.
Step 2
Install the second type of laminate floor, taking care to use flooring spacers to maintain a 1/4-inch expansion gap along the strip of wood.
Step 3
Remove the strip of wood and the laminate spacers, taking care not to shift the end plank of either laminate floor.
Step 4
Center the metal T-molding track in the gap where the strip of wood was installed, taking care to maintain a 1/4-inch expansion gap on either side of the track.
Step 5
Screw the track into place, using the screws that are packaged with the T-molding.
Step 6
Press the laminate T-molding into the track, beginning at one end and pressing along the length until the molding snaps into place. Your different laminate floors are now joined according to industry standards.
Tip
If the floors are in a kitchen, laundry room or bath, you should run a bead of 100 percent silicone sealant along each floor edge before installing the T-molding.