Things You'll Need
Two dowels

3/16" drill bit

Drill

1/4" double threaded end fastener

Wood glue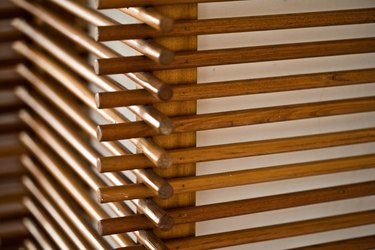 Dowels can be used for a variety of projects. A dowel typically refers to a long round rod of material. Wooden dowels are the most commonly used, but dowels come in many different materials and diameters. Dowels usually come in four foot lengths. If you intend to use dowels for a project and need one longer than the standard size sold in the store, you can try joining two dowels together, end to end, to get the length needed.
Step 1
Drill 3/16" holes into the center of the two dowel ends to be connected.
Step 2
Insert the fastener into the end of one of the dowels and turn to the left until the screw is about half way into the first dowel. This fastener resembles a screw because it is threaded, but has no head because it is threaded on both ends.
Step 3
Insert the exposed fastener end into the second dowel and turn to the left to tighten.
Step 4
Add a drop of wood glue when the fastener is screwed in and only about 1/2" is exposed to strengthen the joint.
Step 5
Continue tightening until both dowels meet together tightly.
Step 6
Allow glue to dry for about one hour.
Tip
You may also use a wooden peg called a dowel pin. Insert and glue into the drilled holes, but it may not provide as much strength.