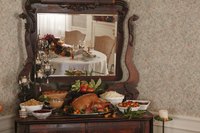 Buttermilk is milk that has been purposefully fermented by an acidic bacteria. It has a slightly sour taste and is used in recipes and to drink. Some lactose-intolerant people can tolerate buttermilk because a large part of the lactose in the milk is fermented. Gravy is a saucy liquid that can add robust and/or complementary flavors to certain foods. Buttermilk gravies are tasty additions to many meat and poultry dishes.
Things You'll Need
1 tbsp. flour
1 bouillon envelope, flavored according to your dish
1 cup of hot water
¼ cup buttermilk
2-cup measuring cup
Fork
Skillet
Mix the flour, bouillon and water in the measuring cup with a fork.
Pour the mixture into a skillet heated on medium-high until the mixture boils.
Boil one minute, stirring constantly.
Stir in buttermilk until the mixture has a uniform consistency.
Serve over meat and/or starch of your choice.