Teak wood is a honey-brown tropical hardwood popular for outdoor furniture and structures. Once exposed to the elements, teak wood naturally weathers to a silvery patina over time. Although this change in color does not affect the structural integrity of the teak wood, many owners prefer the rich appearance of the original teak shade over the duller silvery-gray. You can sand teak wood to return it to "like-new" appearance and apply a rich teak oil to help maintain the golden shade and lessen your need for sanding.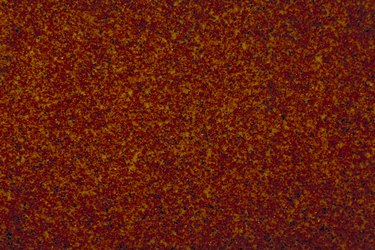 Things You'll Need
Warm Water

Mild Soap

Paintbrush

Fine-Grit Sandpaper

Teak Oil

Soft Cloth(S)

Bucket
Step 1
Clean teak wood thoroughly with a small amount of mild soap and warm water. Wash the wood with a soft cloth to remove grime and oxidation. You may purchase a cleanser specifically made for teak wood, if you prefer.
Step 2
Allow the teak wood to dry for 24 hours before sanding.
Step 3
Sand off oxidation to the wood with a 320-grit sandpaper, moving only in the direction of the grain. There is no need to sand roughly or deeply; a light sanding will soon reveal the beauty of the original wood. Cross-grain sanding may gouge and leave marks in the wood.
Step 4
Sand any tight and hard-to-reach areas on furniture with a fine-grade sanding wedge. These sponges are offered by Norton and 3M and fit well into tricky spaces. Maintain sanding in the direction of the grain so you do not damage the wood.
Step 5
Remove sanding dust with a clean, dry cloth, making sure to remove any gritty residue. You may choose to wash the wood again and allow it to dry for 24 hours before applying teak oil to the wood.
Step 6
Brush a light layer of teak oil on the wood with a clean paintbrush, moving in the direction of the grain. Allow the oil to dry for one hour and then apply a second. A third coat may be needed for you to reach the desired color.
Step 7
Remove any residual oil on the teak with a soft cloth after the last coat has dried. Gently buff the wood in circular motions with the cloth.
Tip
Apply teak wood oil approximately every three months to maintain the color and lengthen the time between necessary sandings.
Warning
Oiling teak wood does not prolong the life of the furniture or structure; it merely maintains the color.