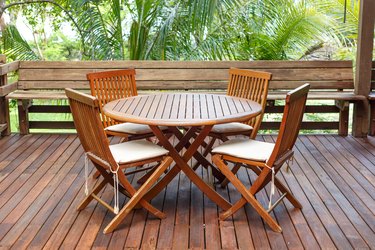 Teak furniture doesn't require all that much maintenance, but you'll want to refinish it from time to time if it starts to look noticeably worn, weathered and grayish. The cost to refinish teak furniture varies widely from about $100 for one small piece up to thousands of dollars for complex restorations. This cost includes labor and supplies, so if you plan to hire a professional, have several pieces refinished at the same time. Otherwise, you can do it yourself, as it's not that involved of a project.
How to Sand Teak Furniture
If you have one small piece of teak furniture, you can opt to sand it by hand. What sandpaper grit is best for a teak table, though? Start with 80-grit sandpaper to knock down the wood grain and remove any minor scratches. Then, you can finish with 120- or 150-grit sandpaper to smooth it all out. You can rent or buy an electric sander for sanding down teak wood on larger pieces and for larger quantities (they cost under $50) with 80-, 120- and 150-grit discs.
You should also start with 80-grit when using the discs, working your way to the finer grits. You will want to have extras handy in all the sizes, as you'll probably need to keep replacing them. You may have to sand the smaller parts of the furniture manually. Once you finish the sanding, you can rinse the furniture with a garden hose. Avoid using a high-pressure sprayer for this because it can damage the teak.
Cleaning After Sanding Teak
Now that you have sanded the teak and rinsed it off with water, it needs a good cleaning while it's still wet. You will want to apply a teak cleaning product with a soft-bristled scrub brush, working it gently into the wood. Some of the best ones are made by Star Brite, Bayes and Semco. Leave it to rest for a few minutes, rinse it all off with the hose and let it dry completely in the sun. Go over it again with the 150-grit sandpaper to make sure it's as smooth as possible and wipe off the dust with a sponge.
The next step is to apply a teak sealer or protector, looking for ones made by Star Brite, Better Boat or DiTech. These protect the wood, acting as a sunscreen to shield the furniture from UV rays that will dry out the surfaces. Apply the product with a clean sponge in an even coat. You may need to use a toothbrush to get into the hard-to-reach areas and be sure not to miss any spots. Sealers and protectants need 24 hours to dry.
When to Refinish Teak Furniture
New teak furniture shouldn't be cleaned or treated in any way until it is at least a few months old, as the wood needs to age naturally. After that time, you can treat it with a sealer or protectant to help maintain its golden color for longer. It will start to take on a silvery tone, which some people like. It will begin to look grayish and weathered in time, though.
A regular cleaning a few times a year will help keep teak furniture in good shape, but when it starts looking dingy and has some minor scratches, you'll want to refinish it. Much depends on where you keep the furniture; if it's outside year-round or near a beach, it'll need to be refinished more often. If you're dragging your feet about doing this project, remember that refinishing will remove stains and mold, prevent users from getting splinters and highlight the wood's beautiful and natural grain.