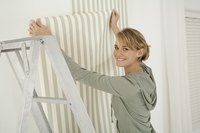 Hanging textured paintable wallpaper is a great solution when your wall condition is too poor to paint directly. This wall covering comes in many textures and styles, from very plain, smooth finishes that mimic drywall to more ornate raised patterns giving your walls a Victorian flair. The beauty of this type of wallpaper is that it can be painted and repainted to suit changing tastes in decor. Textured paintable wallpaper is hung much the same as traditional wallpaper.
Things You'll Need
Paintable wallpaper
Wallpaper adhesive
Paint roller
Wallpaper brush
Determine where you want to begin hanging the wallpaper. Ideally you want to try to hide the final seam so chose an out of the way spot. Use a level and draw a vertical line from ceiling to floor where the first strip of wallpaper will go.
Measure the height of the wall with a tape measure and add 6 inches to allow for work room. Measure out a length of wallpaper for the first strip. Using a straight edge and razor, cut the wallpaper.
Apply wallpaper adhesive to the back of the wallpaper with a roller for even coverage. Let the adhesive cure for 10 minutes before hanging it on the wall.
Take the strip of paintable wallpaper to the wall and line it up with the previously drawn line. Press it up against the wall with about 3 inches of overlap on both the top and bottom. Brush the paper thoroughly with a wallpaper brush to eliminate any air pockets and to ensure adhesion. Remove excess paper with straight edge and razor.
Continue the process with each strip of paintable wallpaper, paying specific attention to aligning any texture or pattern on the paper. Wallpaper will need a full 24-hour period to be thoroughly dry.