Things You'll Need
Paper towels

Liquid dish detergent

Nonabrasive scouring pad

Glass-cleaner spray

Stainless steel cleaner spray

Clean rags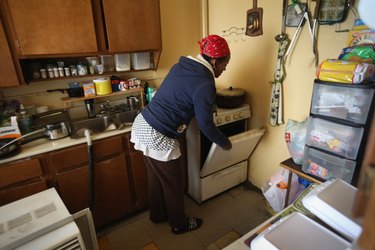 The brand-new look of your Whirlpool flat-top stove can last only so long after putting it to use the first few times. Inevitably cheese sauce will boil over onto a hot burner; pie filling will drip onto the surface of the oven; or, you'll spill onto the stovetop as you pour newly brewed tea from a teapot into a pitcher. Fortunately, in the span of a couple of hours, you can use household commodities to do a complete makeover on your Whirlpool flattop stove to restore its out-of-the-box, brand-new look.
Step 1
Turn off all controls to the top burners and stove. Wait until all oven surfaces have cooled down before cleaning your Whirlpool flattop stove. Dampen a clean rag with hot water. Use the rag to remove and dispose of crumbs from inside the oven and on the stovetop.
Step 2
Coat the enamel stovetop and oven window with spray-glass cleaner. Allow the cleaner to soak for 1 minute. Use a nonabrasive scouring pad to attack any burnt-on food. Wipe away the cleaner and any particles with a paper towel. Dampen a paper towel with glass cleaner and wipe away grime from control panel.
Step 3
Use stainless steel cleaner on the front of your stove, assuming it is a stainless steel model. Use an all-purpose cleaner on the front of models that have conventional metal surfaces. Use circular strokes to clean the area with a rag but avoid steel wool or abrasive cleaners because they will permanently scratch your stove.
Step 4
Take out the broiler pan, oven racks or other removal objects from oven and storage drawer, and then soak them for 30 minutes in a sink full of hot water with a half teaspoon of liquid dish detergent. Remove the stove knobs and add them to the hot water mixture. Dry and replace the items on stove once cleaning process is completed.
Step 5
Initiate self-cleaning cycle in oven by pressing the "Self Clean" button. Program the desired cleaning time, and then hit the "Start" button. Take damp cloth and remove any ash from oven once self-cleaning cycle ends and the "Clean" indicator light activates. Wait to remove ash until surface has cooled.
Warning
Move pet birds and their cages into another room during self-cleaning cycle because the process emits potentially fatal fumes for birds. Humans and other pets can safely be in the kitchen, but activate a kitchen ceiling fan if one is present to help with air movement.