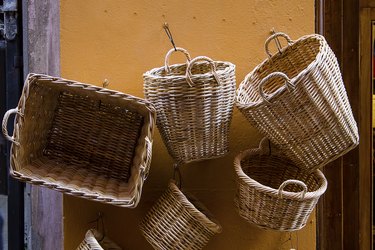 Hanging baskets on a wall creates a lively textural display that's fresh and unexpected. Wall-hung baskets can be purely decorative or can serve as storage, especially for small items such as mail, hand towels, gloves and keys. Baskets are light in weight, so they can be hung with simple hardware or adhesive mounts.
Display Baskets
To show off the beauty of shallow baskets, mount them with their bases flat against wall using adhesive mounting foam or small finishing nails. With deeper baskets, you can work with the structure of the basket itself: Weave a narrow cord or ribbon through the basket's edge, tie it in a loop and hang from a decorative wall hook. For maximum impact, group the baskets generously on a focal wall.
Storage Baskets
Stiffly woven, rectangular baskets can be transformed into shelving for light items by attaching the basket bases to the wall with nails, or with screws and wall anchors. Nesting baskets can be linked together with cord and hung as a wall unit. A basket shaped like a purse or tote bag can be hung by simply placing the handle over a wall hook.