Things You'll Need
Sandpaper (optional)

Face mask (optional)

Small paint roller

Paint trays

Gesso or latex paint

Foam brushes

Water-based paint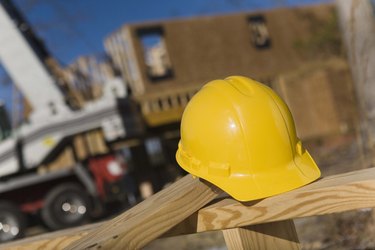 There are a few different reasons to paint on stiff foam insulation sheets. Unfinished basement walls can be painted as a temporary solution before applying wallboard. The paint will both seal the foam and create a more attractive temporary surface. Foam insulation sheets can also be used for inexpensive home decorations, costumes and family crafts. This type of insulation typically comes in large sheets and can be purchased for very little money. When painting foam insulation, it is important to remember to prime the surface to seal the foam.
Step 1
Sand along the edges of the foam to create a smooth finish. Make sure to wear a face mask while doing this, since the particles can be inhaled. Sanding foam insulation is only necessary if you are creating crafts or decorations. Foam insulation on walls does not need to be sanded.
Step 2
Pour some gesso into the paint tray and coat the roller evenly. Gesso will act as a primer. Do not overload the roller, since this can cause dripping. For large areas such as a wall, gesso can be substituted for water-based latex paint in white.
Step 3
Coat the flat surface of the insulation with gesso using the roller. For the edges and any other nooks and crannies, use foam brushes in the appropriate size for that area. Gesso will prime the surface of the foam, keeping paint from absorbing into and subsequently melting the insulation. Let dry.
Step 4
Apply several coats of gesso until the surface of the foam is completely covered. Make sure each layer of gesso has dried before applying another layer. Sand the dried gesso for ultimate smoothness.
Step 5
Paint over the gesso with water-based latex paint in the color of your choice. Use foam brushes or a roller. Apply as many layers as needed for full coverage and let dry.