Things You'll Need
Computer with Internet connection

Printer

Computer paper

Markers

Glitter glue pens

Child-safe scissors

Glue stick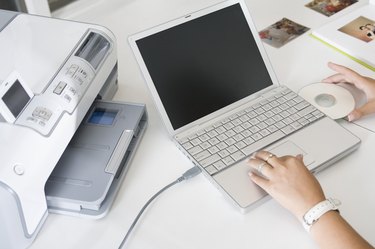 Cornucopia comes from the Latin cornu copiae, meaning "horn of plenty." It is used as a symbol of abundance and harvest--especially at Thanksgiving. Make your own "horn of plenty" with your children. Use the templates included in this article, but do not be afraid to be creative and fill your cornucopia with the fruits and vegetables that you like.
Step 1
Print out a cornucopia template. See the Resources Section for links to several different templates. You will use this template to make different versions of a cornucopia and to make it your own.
Step 2
Color the cornucopia and the fruits and vegetables with various markers. Embellish with glitter glue pens. Set aside to dry.
Step 3
Cut out the cornucopia and other parts with a pair of child-safe scissors. Make sure you monitor any children using scissors and refer to the scissor packaging for recommended ages for scissor use.
Step 4
Glue the parts together by referring to the final template image. For example, if you are using DLTK's Growing Together cornucopia template, then you should slick the cornucopia opening--the large oval shape--with glue and then press it onto the cornucopia horn. Then, slick with glue the backs of the acorn, apple, pear, pumpkin and leaves. Press these parts onto the oval. See the Resources Section for a link to DLTK's Growing Together image.