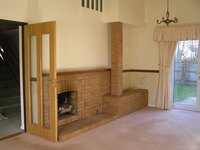 New carpet can be a costly investment, and one that should give you years of enjoyment. Since most people don't purchase carpeting on a regular basis, it can be difficult to discern whether the carpet has been installed well or not. You'll be relieved to learn there are certain things to look for in a carpet installation job. You'll be able to tell if your carpet has been installed properly when you walk through the job site after the installation is complete.
Look for the placement of any seams that were necessary for your carpet installation. While seams are not necessarily invisible, they should be smooth, with the nap of the carpet running in the same direction on both pieces of carpet. Seam placement should run parallel to doorways, and be out of the pathway of any traffic that will turn.
Examine the carpet to ensure there are no wrinkles. Carpet that has been stretched properly will not have wrinkles or bumps but will lie smoothly over the entire floor. If you see an area that is wrinkled, do not sign off on the installation job, as the carpet needs to be restretched.
Check the perimeter of the room, making sure the carpet is tucked securely between the tack strips and the walls. Any loose threads should be trimmed and tucked by the installer before the job is considered finished.
Inspect any doorways and other areas where the carpet meets another flooring material. These are called "transitions" and should be finished so that any difference in height is minimized and all edges are covered smoothly.