Things You'll Need
Soy candle wax

Olive oil

Food scale

Double boiler

Thermometer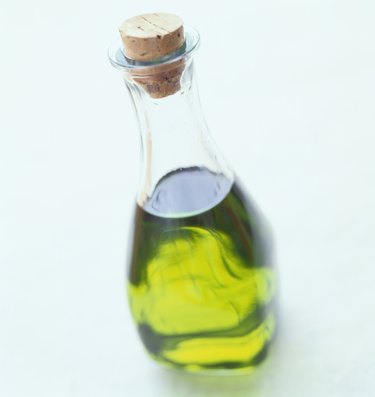 Olive oil is used in massage oil candles. Also known as lotion candles, these candles are softer than normal candles so they must be put in a container to hold the wax as it melts. On its own, olive oil will burn in lamps with cloth wicks, but it can smoke and has a strong odor. By mixing olive oil with soy candle wax, the oil will not smoke and you can douse the flame and use the melted wax for massage oil. Olive oil is added in much the same way fragrance oil is added to candles.
Step 1
Heat the water to about 155 degrees F in the double boiler.
Step 2
Measure and weigh 1 oz. of oil for every 3 oz. of wax you plan to use.
Step 3
Melt the wax in a double boiler.
Step 4
Add the oil slowly, stirring in slow circles until blended.
Warning
Do not allow the wax and oil to cool too much before pouring into the containers. Candles made of soy wax and oil melt easily and cannot be made into standalone candles. Do not use fragrances in massage oil or lotion candles as it can irritate the skin. Do not add olive oil to paraffin wax, or it will make the candle smoke.