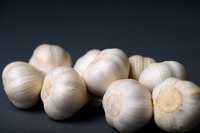 Roasting garlic mellows its pungency and imparts a slightly sweet taste. Rather than using aluminum foil, opt for a more traditional clay roaster to cook several heads of garlic at once. Spread roasted garlic on bread instead of butter or add it to your favorite recipes to replace chopped fresh garlic.
Things You'll Need
Clay roaster
Water
Whole garlic heads
Submerge the base and lid of the clay roaster in water for 15 to 20 minutes before use.
Trim the tops off of the garlic heads to expose the tips. Leave the peel on the garlic.
Place the garlic heads into the roaster and drizzle with olive oil.
Set the lid on top of the roaster and place in a cold oven.
Cook the garlic in the roaster for 60 to 70 minutes at 350 F until the heads feel soft and smell fragrant. Use the roasted garlic in your favorite recipes by separating the cloves and squeezing the roasted garlic out of the peel surrounding each clove.