Things You'll Need
Windex

Vinegar

Steam cleaner

Windex Multi-Surface Spray or Wipes with Vinegar

Scrub brush

Terry cloth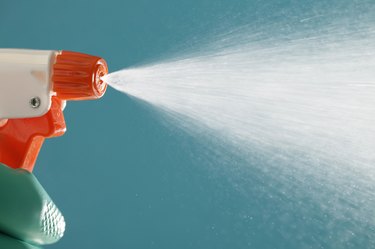 Cleaning your carpets with a mixture of vinegar and Windex can produce cleaning results close to what you get from a professional carpet cleaning service. When mixing cleaners it is important to never mix chlorine with vinegar or Windex to avoid creating harmful fumes. It is a good rule of thumb to keep the windows open when you are mixing cleaners because the fumes can be overwhelming.
Cleaning a Large Carpet Area
Step 1
Mix 1/4 cup vinegar and 1/4 cup Windex in hot water.
Step 2
Pour this mixture into your steam cleaner, or rent a cleaner if you need to do a very large carpeted area.
Step 3
Clean the entire carpet with the steam cleaner.
Step 4
Leave the windows open and let the carpet dry.
Spot Cleaning Your Carpet
Step 1
Purchase Windex Multi-Surface Wipes or Spray with Vinegar.
Step 2
Spray or wipe the soiled carpet area. If the area is very soiled you can leave the wipe on the soiled area or saturate the area with the spray.
Step 3
Use a scrub brush, if needed, to distribute the vinegar and Windex solution into the fibers of the carpet.
Step 4
Blot the saturated area with a terry cloth towel until the excess moisture has been removed and the stain is gone.
Step 5
If needed, repeat steps to remove other stains from your carpet.
Tip
Windex and vinegar used to only be used for windows but now it is being used for cleaning a variety of surfaces in your home. Take a look at the Windex Products FAQs in the "Resources" section.
Warning
Open windows when mixing cleaners and cleaning carpets to avoid inhaling fumes.