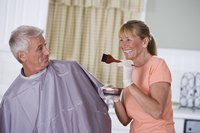 Coloring your hair at home can certainly save you money and a trip to the hair salon. However, one problem that can happen while dying your hair at home is stains. Without even realizing it, you can permanently stain your painted walls, cabinets or other surfaces. The key to getting out the stain is to treat it right away. The sooner you can wipe up the stain, the better your chances are of getting the stain out. There are a few home remedies that will help you get the hair dye stain off a painted surface.
Things You'll Need
Rubbing alcohol
Clean, dry washcloth
1 tablespoon vinegar
4 tablespoons water
Spray bottle
1 cup water
Splash of bleach
Rubbing alcohol
Pour a splash of rubbing alcohol onto a clean, dry washcloth.
Rub the stain with the rubbing alcohol in a circular motion.
Continue doing this for several minutes until the stain is gone.
Vinegar and water
Combine the vinegar with water into a spray bottle.
Shake the bottle gently to mix the two ingredients.
Soak the stained area with the vinegar and water solution.
Rub the stain with a clean, dry washcloth.
Continue wiping the stain until the dye has been removed.
When all else fails, use bleach
Combine a splash of bleach (about 1 tablespoon) with the water.
Mix the bleach and water together while wear rubber gloves. Keep in mind that bleach does stain. Wear old clothing and rubber gloves whenever working with bleach.
Dip a clean, dry washcloth in to the bleach/water solution.
Wipe the stained area with the washcloth.
Continue rubbing out the stain until it is completely gone.