Things You'll Need
Ruler

Permanent marker

Clamp (optional)

Knife

Drill bit

Drill

Sandpaper (optional)

Masking tape (optional)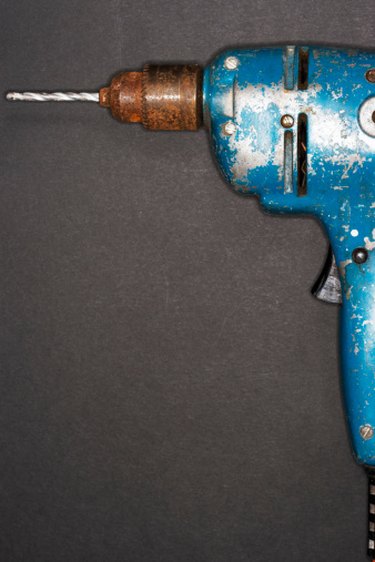 Buckets are usually intended for use in carrying liquids, so they do not come with holes in them as a rule. However, sometimes you may need a hole in a bucket; for example, if you want to use them for flowerpots. The slick rounded surface of a bucket can be a bit tricky to drill, but if you are careful and prepare the surface ahead, you can easily drill holes in buckets in a very short time.
Step 1
If necessary, use a ruler and a permanent marker to measure and mark the places where you want to put the holes in the bucket.
Step 2
Secure the bucket upside down in a firm position so it cannot move as you are making the holes. If drilling into the bottom, you can hold the bucket between your knees while in a seated position or stand on the handle while the bucket is positioned on the ground. You can clamp the bucket sideways onto a workbench if the holes will be on the side.
Step 3
Use a knife point (or another sharp object such as a nail or file) to carefully scratch a tiny starter hole at each point so the drill bit does not slide off the slick plastic when you are ready to drill.
Step 4
Select the appropriate size of drill bit for the hole you want to make and insert it into your drill.
Step 5
Drill holes at the marked points. Sand both sides lightly if necessary to remove burs.
Tip
If you do not have a drill, use a hole punch, sharp nail or penknife point to drill the hole by wiggling the point back and forth on one side until you can see the point of the instrument just break through the surface on the opposite side. Stop drilling on that side and work from the opposite side to make a neat hole without shattering the plastic.
If the plastic looks as if it will shatter as it is being drilled, STOP. Place a piece of masking tape on the opposite side of the hole, where the drill point will emerge, and continue drilling at a reduced speed.
Warning
When working with electric drills, always wear safety goggles and hearing protection.