Things You'll Need
Reflective stickers

Paint

Mailbox sign

Outside light

Lawn post

Lighted number sign

Stencils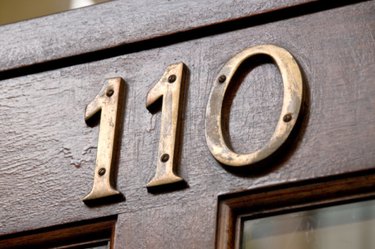 Displaying house numbers properly is important for receiving deliveries, making it easy for friends and relatives to find your house if they haven't been there before, and for quick response in emergency situations. Because you're so familiar with your house number, sometimes it's difficult to notice if the number is not displayed very well. Many houses have numbers that are barely visible, particularly in the dark. It's best to have the number in the most obvious places people look--on the sides of a street mailbox and above or next to the front door. The numbers should be at least 3 inches high.
Step 1
Add numbers to your mailbox if the mailbox is on the street, and put the numbers on both sides. If you really don't want the numbers on both sides, then add them to the side that traffic passes. Use reflective stickers with black numbers on white, or paint the numbers in a contrasting color from the mailbox. You also can display the numbers on a sign above or below the mailbox.
Step 2
Use reflective stickers for the house, and add them above or next to the front door if the door isn't set back from the rest of the house. Be sure an outside light makes the number visible at night.
Step 3
Add a lawn post with a sign to display the house number--a particularly good option if your front door is not readily visible. Display the number at least 4 feet from the ground. The numbers should be in a contrasting color from the sign background.
Step 4
Consider installing a lighted house number display if it will be difficult to see the house number at night otherwise. These are available in fluorescent, solar-powered and light-emitting diode (LED) styles.
Step 5
Paint the house number on the curb in front of the home using reflective paint and stencils. Black numbers on white concrete are easily visible, and are sometimes preferred by emergency personnel. Keep the area free from leaves and other debris, and keep it clean from road grime that may obscure the number.
Warning
Avoid being overly creative. If you display your house number on a short sign in a flower garden, for instance, people probably will overlook it. Fancy type styles and colorful designs, such as blue numbers on a green background, are very difficult to read.