Things You'll Need
Garden hose

Soft cloth

Soft-bristled scrub brush

Soft-bristled toothbrush

Gentle liquid dish detergent

Clear paste wax

Wire brush

Paintbrush

Sealant (optional)

Paint (optional)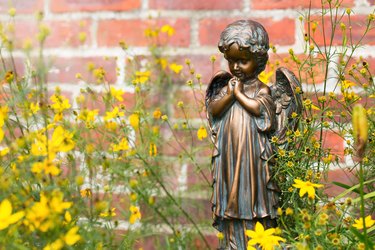 When the once-attractive, weathered patina on your garden statues begins to look like plain old dirt, it's time to give them a cleaning. To protect the statues' surfaces, always start with the simplest, most gentle approach: spray the statues with clean water from the hose. Use gentle soaps, soft cloths or scrub brushes only if needed. Routine preventive care and gentle, regular cleaning can help combat the ravages of weather and keep your statuary looking better, longer.
Stone Statues
Step 1
Spray stone statues with a garden hose. This will remove all but the most stubborn algae or moss and should remove most bird droppings.
Step 2
Wipe the statue with a damp, soft cloth or use a gentle scrub brush with some liquid dish washing detergent for more resistant organic materials. Rub the soiled areas with the cloth until the dirt is removed; then rinse with a strong stream from the hose.
Step 3
Use a soft toothbrush to gently scrub dirt from nooks and crannies. Rinse the statue after using the toothbrush.
Bronze Statues
Step 1
Spray a bronze statue with a hose to remove dirt. Then use a gentle cloth and liquid soap if necessary. Do not use harsh products or special cleansers, which could damage the bronze surface. Clean bronze statues only after the original wax coating begins to disappear, typically after about three months outdoors.
Step 2
Rinse the statue thoroughly after cleaning and allow it to dry completely.
Step 3
Apply a new coat of plain paste wax during the warmest part of the day. Allow the wax to dry completely -- at least 20 minutes.
Step 4
Buff the dried wax off the statue with a soft, clean, dry cloth.
Step 5
Repeat the waxing and buffing procedure a second time to provide additional protection to outdoor bronze statues.
Iron Statues
Step 1
Scrub iron statues with a stiff wire brush to remove dirt, rust or flaking paint.
Step 2
Apply a sealant or washable paint with a paintbrush. Allow the sealant or paint to dry completely.
Step 3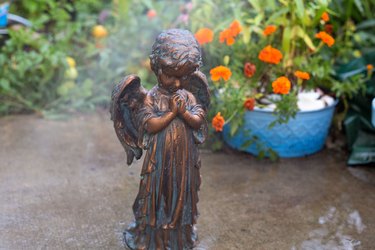 Spray painted or coated iron items with a hose to wash them off when they get dirty. Use a damp cloth and liquid soap to rub away more stubborn soil from sealed or painted iron statues.