Things You'll Need
Fine powder cleanser

Soft dish cloth or nylon scrub pad

Dish liquid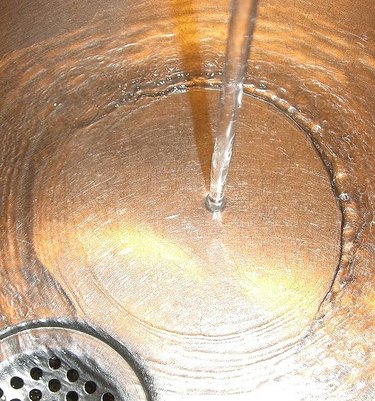 All-Clad Metalcrafters have been manufacturing fine kitchen cookware for more than 35 years. Its popular stainless steel line is made of 18/10 stainless steel with an aluminum core for durable, lightweight pots and pans with excellent heat dispersion. This cookware is ideal for preparing a variety of foods, from pancakes to spaghetti sauce. All-Clad stainless steel is attractive, versatile and easy to clean at home.
Step 1
Place All-Clad stainless steel cookware into a sink of warm water.
Step 2
Prepare a paste of a fine powder stainless steel cleanser, such as Bon Ami, Twinkle or Bar Keepers Friend.
Step 3
Apply the cleanser paste to the damp interior of the cookware using a nylon scrub brush or soft dish cloth.
Step 4
Rub the cleanser paste in circular motions with the nylon scrub brush or dish cloth, starting in the center of the cookware and continuing outward.
Step 5
Repeat Steps 3 and 4 to clean the exterior of the All-Clad stainless steel cookware, only if it requires cleaning. The exterior is polished stainless steel and needs little care.
Step 6
Wash the cookware in hot, soapy water using a soft dish cloth or nylon scrub brush.
Step 7
Rinse the cookware in warm water and dry promptly.
Tip
All-Clad stainless steel is dishwasher safe.
Warning
Do not use steel wool, oven cleaners or any products containing chlorine bleach on your All-Clad stainless steel cookware.