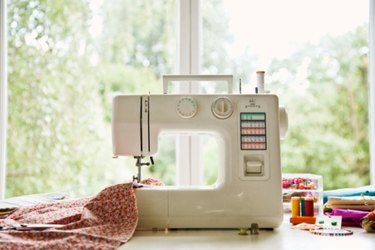 Tie-up window panels give a softening effect to a room. They come in a variety of fabrics and colors and allow you to add individual style and a comfortable look to a room. You can fold fabric tie-up window panels loosely or roll them tightly, depending on the look you want to achieve. However, you should learn to tie your tie-up window panels correctly, or what started out as a complement to your decor can become a messy eyesore.
Step 1
Choose the type and length of curtain rod to use for the tie-up window panels. If you intend to hang the panels flat, leave enough room between the curtain rod mounting hardware so that your panels are not bunched at the top.
Step 2
Hang the window panels and determine how long you want them to be.
Step 3
Fold the fabric in 2- to 3-inch sections, alternating folding over and under the fabric panel, until you have reached the desired length. If you are trying to create a neat, streamlined look, roll the fabric panel toward you.
Step 4
Tie the ties or ribbons, which are attached to the front and back of the window panels, into bows to hold the fabric in place.
Step 5
Separate and adjust the folded fabric until the window panel is even on both sides.
Tip
It helps if you have an extra set of hands when tying tie-up window panels. If one person holds the folded fabric while the other ties them up, there is less chance of losing the folds and having to start over again.