Things You'll Need
3-4 cups of frozen fruit

¾ cup sugar

½ tsp. cinnamon

1 tbsp. corn starch

1 tbsp. tapioca

1 tbsp. lemon juice

2 prepared pie crusts

2 tbsps. butter
Fruit pies are a delightful finish to any meal. However, seasonal fruits often determine what pies are made at given time of year. Using frozen fruits to make pies can be the perfect alternative to fresh fruits, but using frozen fruits can mean a few slight changes to the recipe.
Step 1
Buy the frozen fruit. Blueberries, raspberries, blackberries, strawberries and peaches work well. For best results, buy frozen fruit without any liquid or sugar added. If you buy fruit with sugar added, eliminate the sugar in the pie by 50 percent to account for the added sweetness. To make one pie, you will need 3-4 cups of frozen fruit.
Step 2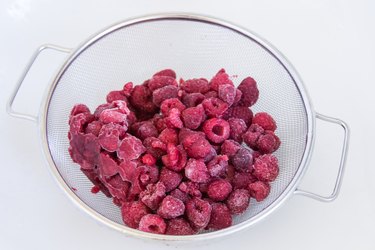 Remove the fruit from the freezer, place in a colander in the sink and thaw for about one hour. Rinse the fruit and drain thoroughly without crushing the fruit. If using fruit with sugar or syrup added, thaw the fruit in the bag and do not rinse. Drain the excess liquid.
Step 3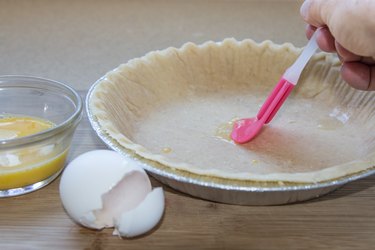 Roll out one pie crust and form into a pie plate. To prevent the pie filling from making the crust soggy, brush it with a well-beaten egg. Bake at 450 degrees for 10-13 minutes, until brown.
Step 4
Combine the fruit with other ingredients. Add ¾ cup sugar, ½ tsp. cinnamon, 1 tbsp. corn starch and 1 tbsp. lemon juice to a bowl. Toss with the thawed fruit. Taste the fruit mixture to ensure proper sweetness. If using tart fruit like raspberries or blackberries, add ¼ to ½ cup more sugar. If the mixture seems wet, add 1 tbsp. of tapioca.
Step 5
Pour the filling into the baked pie crust. Dot the top with 2 tbsps. butter, chopped. Roll out the other pie crust and place on top of the pie. For a lattice crust, slice the crust into strips and lay in a lattice shape on top of the pie. Bake at 375 degrees for 25-35 minutes.