Things You'll Need
Pressure washer

Lemon juice or white vinegar

Wire brush

Towel

Small bowl

Rust remover

Primer

Paint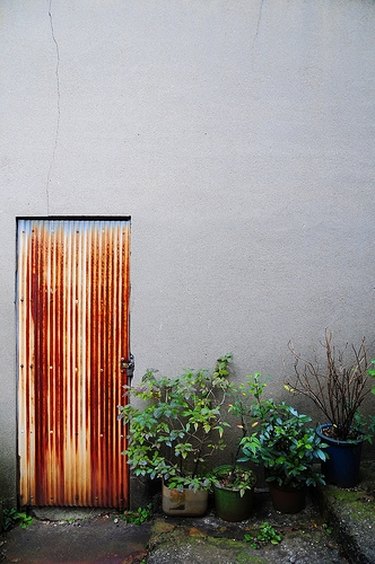 The Merriam Webster Online Dictionary defines rust as the reddish, brittle coating formed on iron when it is chemically attacked by moist air. Rust spots on the outside wall of your home may be attributed to rainfall coming in contact with unprotected metal or steel. For example, many prefabricated chimneys use galvanized steel as a chase cover. Active Rain defines a chase cover as being designed to keep rain, snow and hail as well as small animals from entering your chimney through the chase. After many years this cover may start to oxidize (rust) and leave an ugly orange stain on your home.
Step 1
Use a pressure washer or water hose with a high powered nozzle to spay down the walls and wash away any loose particles. According to Outdoor Cleaning with Pressure Washers: A Step by Step Project Guide by Tom Lemmer and Pat Simpson, when using a pressure washer on an outside wall such as vinyl or aluminum siding, you should hold the nozzle at a 45-degree angle at least 24 inches from the wall to prevent siding damage.
Step 2
Apply lemon juice or white vinegar directly to the rust area, and allow to sit for 3 to 30 minutes; then scrub rust particles away with a wire brush. Rinse away any additional flakes or residue.
Step 3
Purchase a commercial grade rust remover from your local hardware or home improvement store. Dip a towel or bristled brush into a small bowl containing the rust remove,r and vigorously rub/brush at the rusted area to remove any stains. Rinse and repeat as necessary. Many commercial products are now available that you just spray on and wash away.
Step 4
Ensure rust spots do not reappear by cleaning the affected area thoroughly and allowing it to completely dry. Paint over the area with a moisture blocking primer and add a topcoat.