Things You'll Need
Newspaper

Safety glasses

Tiles of various colors

Large plastic resealable bag

Hammer

Towel

Plastic bucket,

4 precut 6-inch square pieces of plywood

Glue and hot glue gun

Gloves

Premixed sanded grout

Trowel

Sponge

Rag

Self- adhesive felt pads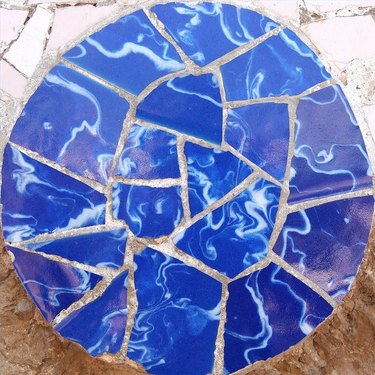 When serving hot dishes, an iron trivet is a functional kitchen item that can protect dining tables and kitchen counter tops from burn marks. However, mosaic tile trivets are an alternative to these traditionally metal items of the past. While you can buy these beautiful accent pieces, it might be more fun to design and make your own mosaic trivet. This is also a craft project you can do with a group of friends.
Step 1
Protect your working surface by covering with newspaper. Put on safety glasses.
Step 2
Place the tiles in the plastic bag and seal it. Wrap the bag in the towel. Break the tiles into smaller pieces of varying sizes with the hammer. Remove the tile pieces and put them in the bucket.
Step 3
Choose a simple pattern to draw on the plywood. The pattern should be something you can draw easily by hand. Take different color tile pieces from the bucket and arrange them on this pattern.
Step 4
Check to see if the design is to your satisfaction, then use the glue gun to secure the tile pieces to the plywood. Press down on each tile piece to make sure it is well attached.
Step 5
Take the trowel and dip it into the grout mixture. Spread a thick layer evenly over the entire design. Wipe off any excess grout with the trowel. Wear gloves while grouting the design.
Step 6
Wait 10 to 15 minutes to let the grout set up. Wet the sponge and gently wring out excess water. Wipe the top of the mosaic design with the damp sponge to clean it. If there is still some grout remaining on the design, rinse the sponge and clean it again.
Step 7
Wait 24 hours to allow the grout to set completely. When the mosaic trivet is fully dry, polish it with the rag. Secure the self-adhesive felt pads to the bottom of the mosaic trivet to prevent any damage to your table or countertop.
Tip
Use leftover tiles from a kitchen or bathroom project to make a tile trivet.
Quantity of tiles used for this project depends on the size of the tiles. Most wall tiles used in bathrooms or kitchen are 4-1/4 inch square tiles, but there are larger sizes.
Use sanded grout for grout joints that are 1/8 inch or larger.
Instead of using broken pieces of tiles, buy small 1-inch mosaic tiles (see Resources). This is a better option if you want to do this project with small children.