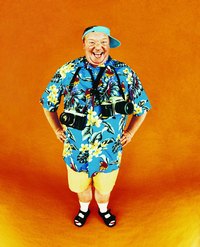 Whether you visit Disney World or New York City, you see one common sight: the tacky tourist. In their loud, inappropriate wardrobes and abundance of sightseeing gear, some tacky tourists are easy to spot. Others exhibit a subtler tacky tourist style, dressing sensibly but unfashionably in sneakers and fanny packs. If you want to create a tacky tourist costume, you can find the items you need at secondhand stores and in your home. Since tacky tourist fashion crosses gender lines, the theme works for men's, women's or couples' costumes.
Things You'll Need
Baggy khaki shorts
Hawaiian shirt
Men's socks
Sandals
Sun visor
Fanny pack
Camera
Binoculars
Muumuu
Women's white crew socks
White sneakers
Floppy straw hat
Large sunglasses
Oversize tote bag
Man's Costume
Wear baggy khaki shorts that hang to your knees. Top the shorts with a Hawaiian shirt in a bright, bold pattern. Use a shirt that's larger than your usual size and leave it untucked so the hem hangs loosely over your waist.
Use socks and sandals for your tacky tourist footwear. You can wear long white athletic socks or dark dress socks, either solid or patterned. Pull the socks up to your knees and wear a pair of men's sandals over them.
Accessorize your men's tacky tourist costume with a sun visor that's made from straw, canvas or transparent colored plastic. Wrap a large fanny pack around your waist over the shirt so the pouch hangs in front. Hang binoculars and cameras around your neck.
Woman's Costume
Wear a muumuu dress that's larger than your usual size. Choose a brightly colored muumuu in a Hawaiian print or another bold pattern. If necessary, hem the muumuu so it falls below your knees or to mid-calf length.
Wear white crew socks and white sneakers on your feet. Fold the tops of the socks down to create cuffs above your ankles. Use heavy, bright white sneakers with thick soles.
Complete your women's tacky tourist costume with a large, floppy straw hat. To increase the tacky factor, choose a hat that's embellished with artificial flowers or fruit. Wear large sunglasses with colored plastic frames and carry an oversized tote bag made from colored straw or print canvas.