Things You'll Need
Trunk

Hamper

Suitcase

Tablecloth

Fabric

Bed sheet

Blanket

Large box

Wide ribbon

Masking tape

Staples

Staple gun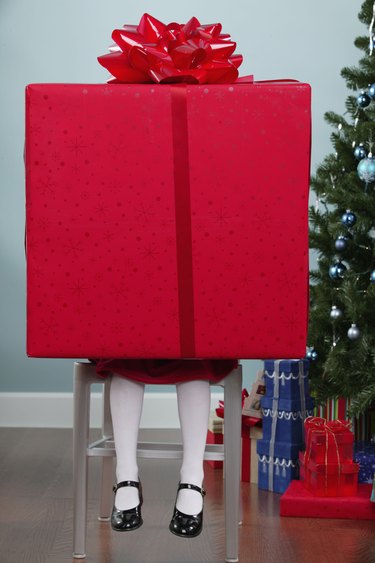 If you are giving a gift that is very large, you might find it difficult to wrap the gift with wrapping paper. You might even have a very large gift without a box or labels on the outside of a large box that you would like to hide. You can use a variety of objects and creative wrappings to keep the gift a surprise.
Step 1
Put the gift in something useful that then becomes another gift. For example, buy a suitcase large enough to hold the gift. The suitcase can then be used for travel. If a suitcase is too small to hide your oversize gift, use a large laundry hamper or storage trunk.
Step 2
Use inexpensive vinyl tablecloths. If one tablecloth is not enough, buy the number you will need to wrap the gift. The measurement of the tablecloth will be on the wrapper, so you will be able to calculate how many you will need to purchase to wrap your gift. These tablecloths are colorful and are available in patterns appropriate for holidays like Christmas, Valentine's Day and Easter. You could also use leftover fabric from your sewing projects, a lightweight blanket or a bed sheet.
Step 3
Ask around for a box large enough for the gift. Visit your local appliance store, moving and storage company or your local car repair shop. These businesses toss out very large boxes on a routine basis. You can cut one side off the box, wrap the other sides and simply place the box over your extra large gift.
Step 4
Use staples or masking tape to secure the wrapping in place. If you need something a bit stronger, use strapping tape. To decorate your large gift, get some inexpensive party balloons, blow them up and tape to the gift. You could also buy paper streamers or wide ribbon to use as a bow.
Tip
Check thrift shops and second-hand stores for vintage trunks and suitcases at low prices. Inexpensive tablecloths can be purchased at discount stores and shopping outlets. Be sure to ask your appliance store, car repair shop or moving company for permission to look for or take a box. Masking tape comes in a variety of colors and widths. Check your local home improvement store or moving supply store.