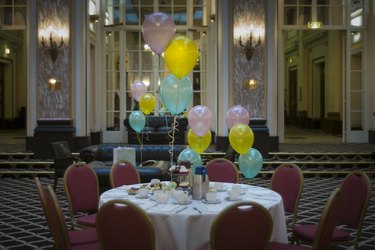 Hotel parties can work for all ages, from a tween sleepover to a grown-up soiree. You and your guests bring the refreshments; the hotel takes care of the cleanup. What could be better? Throwing a hotel party is a fast, fun way to hold a get-together without worrying about certain logistics, but it still requires forethought.
Booking and Check-In
Give guests room to mingle by booking a large room or suite. If you anticipate crowding, opt for a hotel with a bar so that you can move the party downstairs if necessary. Keep in mind that excessive noise can get your party shut down by hotel staff, so it might be best to stay in just one room. When you check in, get a copy of the room agreement and read it carefully, taking note of any information on room damages, noise restrictions, such as quiet hours, and potential fees.
Party Set-up
Arrive early to prepare your hotel room for the party. Remove sharp and breakable objects and put them in a safe, out-of-the-way place, such as under the bathroom sink. Clear tables and countertops to make room for refreshments. If you need to move furniture around, take pictures beforehand so you can move it back before leaving. Avoid multiple trips to the ice machine by filling a cooler with ice just before guests arrive. Fill the bathtub with ice and use it as a refrigerator for beverages and cold foods. Set up trash bags around the room.
Refreshments
Keep the food simple, and use disposable plates. Finger foods are a safe bet for all ages and don't require the added cost of utensils. Pizza is always a crowd-pleaser but can get messy, so provide plenty of napkins. For dessert, go with cookie bars or cupcakes that can be eaten in two or three bites. Provide paper or plastic cups for beverages. Even if you don't plan to serve any alcohol, set up the beverage station in an out-of-the-way corner and designate a "bartender" to keep spills to a minimum.
Entertainment
For a small, low-key get-together, the TV provides sufficient background noise while your guests chat and mingle. If you plan to have dancing, bring an mp3 player and small, portable speakers. Age-appropriate party games and scary movies are safe bets for younger party-goers. Other party games, such as charades, can be fun for guests of all ages, especially as the party is winding down.