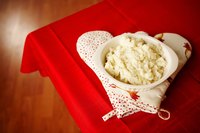 Leftover mashed potatoes don't have to be thrown away — instead, turn them into delicious potato dumplings. This simple recipe can be prepared in minutes and makes a tasty side dish or addition to a winter soup or stew.
Things You'll Need
Mashed potatoes, cool
Flour
Salt and pepper, to taste
Half-fill a large pot with lightly salted water and bring to a boil.
Measure how much mashed potato you have; you will need the same amount of flour as potatoes. For example, if you have 4 cups of mashed potatoes, you will need 4 cups of flour.
Combine the potatoes and flour in a large bowl with your hands or a wooden spoon.
Shape the potato-flour mixture into balls. You can make the balls any size you prefer.
Drop the dumplings carefully into the boiling water. Turn the stove down to medium-high heat.
Cover and simmer the dumplings until they begin to float to the top of the water, about 10 minutes. Drain and serve.