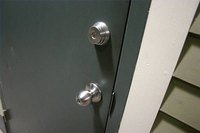 A deadbolt is an auxiliary lock that is used in conjunction with a regular knob or lever lock. Deadbolts offer an added layer of security to the home, and are much more difficult to tamper with than other types of locks. Medeco deadbolts feature 1-inch steel bolts, double-locking action and other anti-tamper technologies to protect your home and assets.
Things You'll Need
Medeco deadbolt
Drill
Hole saw
Remove the paper template from the lock package and place it on the door as indicated on the template. Medeco templates are typically self-adhering. Use a level to check that the template is even.
Drill pilot holes at the screw locations indicated on the template.
Use a hole saw to cut out the hole in the door for the lock body. The size and location of this hole are indicated on your template. Cut partway through the door from one side, then move to the other side to finish the cut. This helps prevent the door veneer from splitting.
Slide the cylinder ring around the lock cylinder, keeping the keyhole at the bottom. Place the cylinder into the door from the outside of the home.
Turn the thumbturn to the unlocked position, then slide the backing plate of the lock into the hole from the inside of the home.
Align the connector bars on the two halves of the lock and snap them together.
Place the strike template onto the frame at the height indicated on your template. Use a hammer and chisel to chisel away the wood to form the strike pocket.
Test the lock to ensure the strike pocket is the correct size, then remove both templates. Screw the strike cover plate into place to complete the project.