Things You'll Need
Cotton fabric

Polymer water crystals

Scissors

Ruler

Pencil

Sewing machine

Thread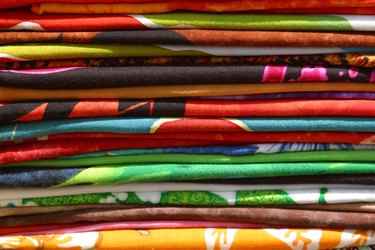 On a hot day, it can be hard keep cool. These cool icy neck wraps are great for golfers, runners and walkers. Use them whenever there is hot weather to keep you cool. These icy neck wraps or headbands are easy to make. The cooling effect comes from polymer water gel crystals that expand over 400 percent when soaked in water and stay cool for hours.
Step 1
Cut your fabric to be at least 36 inches long. Cut fabric into 4-inch wide strips.
Step 2
Fold a strip in half so that it's 18 inches long. Use your ruler to measure 8 1/2 inches from the fold. Use a pencil to mark the spot. Do this on both sides of the fabric. This center section will become the pocket for your water crystals.
Step 3
Unfold the fabric. Refold it lengthwise with the back side of the fabric facing out. No need to pin it.
Step 4
Use your sewing machine to stitch the length of the fabric with a 3/8-inch hem.
Step 5
Go back and double-stitch the center section that you have marked.
Step 6
Now you need to turn the fabric "snake" right side out. Do this by attaching a safety pin to one end, and pushing it through the inside until the fabric is right side out. At this point, you can iron it flat to make the remaining steps easier.
Step 7
Fold the neck wrap in half and measure 8 1/2 inches from the fold. Double-stitch seam across the neck wrap at this point.
Step 8
Insert 1 teaspoon of water crystals into the opening -- check that you are adding them to the right end -- and shake them down until all are sitting at the seam you just made.
Step 9
Fold the tie in half again, and check for the position of the second seam to close the pocket. It should be directly across from the first when folded in half. The pocket length will be 17 inches.
Step 10
Double-stitch across the tie at the position you marked in last step to close the pocket.
Step 11
Finish the ends by folding the fabric in and stitching across it. You can do this at an angle to give it a more professional look.
Step 12
Put a couple of inches of cold water in the sink. Put the neck wrap in for 10 to 15 minutes. Watch it grow.
Step 13
Tie neck wrap around your neck and start cooling. Your neck wrap will stay cool for several hours.
Tip
Polymer water crystals are available at your local craft store, usually in the floral section. Make these as gifts for your family and friends or to sell at craft fairs. Use neck wraps to keep dogs cool. Pop neck wraps in the freezer for a few minutes to make them icy. Pack neck wraps in a cooler for a hot day out. Neck wraps will return to their normal size after drying completely. They can be re-hydrated at any time.