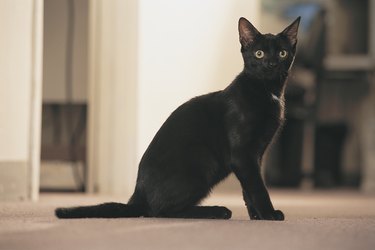 If you have a cat with litter box problems, you know that the smell of cat urine can be overpowering and incredibly difficult to remove. A cat enzyme cleaner is one of the most effective methods for cleaning up, but it is possible to eliminate the stains and odor with natural, green ingredients that most people already have in the home, like baking soda.
Baking soda is well known for its ability to absorb odors in the household and is commonly used in the refrigerator and even with laundry. You can also use it to help eliminate odor from cat urine. Cat pee contains uric acid that the baking soda may help neutralize.
After you locate where your cat has peed on the carpet, use paper towels to absorb as much cat pee as possible. Then, use club soda to thoroughly clean and scrub the area. Finally, once the carpet is dry, apply baking soda to the cat pee on the carpet. Allow the baking soda to sit for at least 15 to 30 minutes. Once the baking soda for cat odor has had enough time to absorb the remaining odor, vacuum the area.
Cleaning Alternatives and Considerations
There are some other options to using baking soda for cat urine smell that can help to eliminate the odor. Using baking soda and vinegar for cat pee is one popular option. You will still use baking soda, but instead of cleaning the carpet with club soda, you will use vinegar. This may seem counterintuitive since vinegar does not have a pleasing smell, but the acidity in the vinegar can kill odor-causing bacteria in the urine.
Mix one part white vinegar with one part water and spray the urine stain on the carpet. Dry the area with paper towels. You may need to repeat the application more than once to fully eliminate the odor.
Another option to consider is baking soda and peroxide for cat pee. You will use the baking soda in the same way but instead of club soda to clean the area first, you can pour hydrogen peroxide directly on the urine stain. Allow it to sit for five minutes and then wipe it up with paper towels or a towel. Use caution with this method on carpets because hydrogen peroxide may cause discoloration. Before proceeding, test an out-of-the-way area to make sure it won't stain your carpet.
Prevent Litter Box Issues
Cleaning the cat urine from your carpet to fully remove the odor is important in ensuring your cat does not continue to pee or mark in that same spot. If this is an ongoing issue, you may need to take additional steps to get your cat to use the litter box again.
First, take your cat to the vet to rule out any medical problems, like urinary tract infections. Once you are sure your cat is healthy, evaluate the litter box situation in your home. If you recently switched cat litter, it is possible your cat doesn't like the new option. Switch back to a litter you know she likes. If you have multiple cats in the household, make sure you have enough litter boxes. A good rule of thumb is to have one litter box for each cat plus one additional box.
Position the litter box in a location where your cat can relax and there isn't a lot of traffic or stress. Finally, make sure you are cleaning the litter box at least once a day, as many cats won't use a dirty litter box. If the litter box issue continues, discuss the problem with your veterinarian so that you can find a solution that will work for your cat.