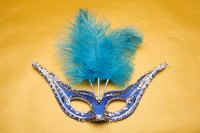 Before the Lenten season begins, Catholics around the world put on carnivals. One of the most popular carnivals, Mardi Gras, takes place in New Orleans. During Mardi Gras, people invade the streets of New Orleans wearing wild and attention-grabbing attire such as peculiar headpieces and masks. Because there are no hard and fast rules when it comes to Mardi Gras costumes, you can make your own creative, crazy, and vibrant costume in preparation for the event out of every day materials.
Things You'll Need
Colorful leggings or tights
Scissors
Assorted color felt paper)
Glue
Stapler
Feathers
Beads
Glitter
Sequins
Bustier or corset
Tutu
Tights
Thin cardboard
Scissors
Printer
Pencil
Mask template
Paper
The Jester Costume
Gather two leggings or tights with interesting patterns, like a black and white checker pattern or a neon shade.
Cut off the right leg of the first pair of leggings. For the second leggings, cut off the left leg, and then wear both to get the effect of having different patterns or designs on each leg.
Make a jester hat by cutting a strip of felt paper that is long enough to fit your head.
Cut long triangles out of different colored felt paper. You will need enough triangles to fill up the long strip of paper that will go around your head.
Glue or staple the bottom of the triangles to the tip of the strip of felt paper. Form a circular, crown shape with the felt paper and staple or glue the ends together.
Mardi Grass Costume for Girls
Print out a mask template or draw one by hand on cardboard paper. Make sure it is small enough only to cover the eyes.
Cut out the mask and start decorating it with glitter and beads. Be as creative as you can.
Punch holes on the ear area of the mask. Cut a rubber band open and thread it through the holes of the mask, tying a knot at each end.
Prepare the rest of your costume, once your mask is done. Wear a bustier or corset, tutu and vibrant tights. Adorn your outfit with beads, feathers, sequins, and anything that glistens.