Things You'll Need
6-Ounces of Chocolate Morsels

2 Tablespoons Light Corn Syrup

2 Tablespoons Vegetable Shortening

1 1/2 Teaspoons Water

Double Boiler

Cookie Sheets

Waxed Paper

Treats to Dip: Fruit, Pretzel Rods, Marshmallows, Potato Chips, Candy Sticks, Cookies, Candy Canes, Twizzlers, Twinkies etc.

Optional: Decorate your chocolate candy treats with sprinkles, jimmies, M&Ms, crushed Peanut Butter Cups, flaked coconut, chopped nuts etc.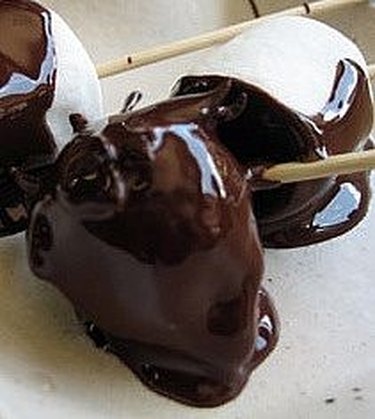 Love those fancy dipped chocolate treats you see in the chocolate shops and specialty stores? You can make your own chocolate coated treats at home with this simple chocolate dipping sauce recipe.
Use this easy recipe to chocolate coat fruit, pretzels, marshmallows, candy canes, pretty much anything you want covered in chocolate. Everything just taste better with chocolate.
Step 1
If you don't have a double boiler fill a pot with about 3" of water and place a smaller pot inside which you will fill with your chocolate mixture.
Step 2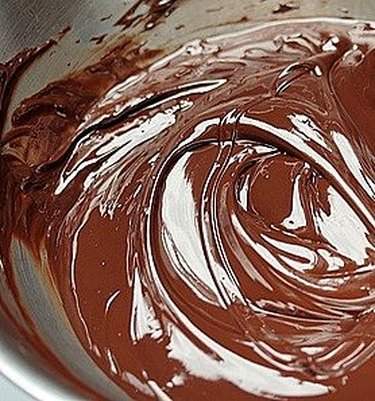 Over hot, NOT boiling water, combine Chocolate Morsels, Corn Syrup, Shortening and Water.
Step 3
Stir until the morsels melt and the mixture is smooth.
Step 4
Remove the chocolate mixture from the heat but keep it over the hot water. Dip pretzels, marshmallows, chips, cookies, candy etc. into the chocolate dip to coat with chocolate.
Step 5
Place chocolate dipped treats on waxed paper lined cookie sheets and decorate as desired with sprinkles, jimmies, nuts, coconut, mini candies etc.
Chill in refrigerator for about 10 minutes or until the chocolate coating sets.
Step 6
Remove chocolate dipped treats from the refrigerator and let stand at room temperature until the chocolate coating dries.