Things You'll Need
Slow cooker

Four large chicken legs, thighs attached, about 8 ounces each, or six smaller leg quarters.

Salt and freshly crushed black pepper

Half cup of white wine

Half cup of chicken broth or water

Three or four lemons

Whole head of garlic

Four 2-inch sprigs of rosemary, or two teaspoons of dried rosemary

Eight 2-inch sprigs of thyme, or two teaspoons of dried thyme

One medium onion

Olive oil

Gallon-sized zippered plastic bag

Skillet (optional)
Chicken legs can be the tastiest and most succulent part of the bird because they consist of the dark meat from the drumstick and the attached thigh. Cooked low and slow they are also a thrifty and convenient main dish. Look for large budget packages of fresh legs, sometimes called leg quarters. These large legs come from birds raised to meet U.S. shoppers' demand for large boneless chicken breasts, but they make a much tastier, cheaper chicken dish than the more expensive breasts.
Italian Lemon Garlic Braised Slow Cooker Chicken Legs
Step 1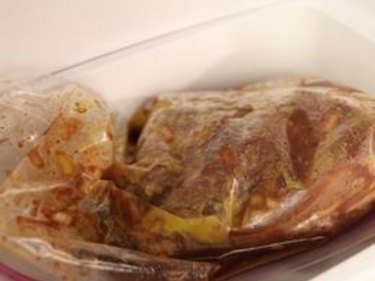 Trim any excess fat from the thigh area--legs in budget packages may need trimming. Place the legs in a zippered plastic bag. Add four crushed cloves of garlic, two sprigs of fresh rosemary (or one teaspoon of dried rosemary), four sprigs of thyme (or one teaspoon of thyme), one generous splash of olive oil. Cut one lemon in half, squeeze lemon juice into bag, cut squeezed lemon into quarters and add it to the bag. Seal the bag, squeeze mixture to massage ingredients, refrigerate for at least two hours or overnight.
Step 2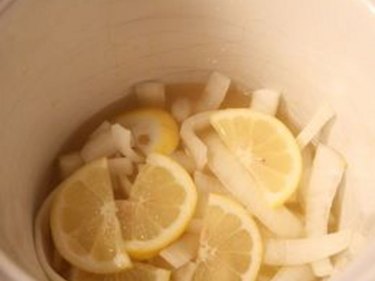 Dampen a paper towel with a little olive oil and oil the bottom and sides of the slow cooker. Cut the onion into thick slices and layer the slices on the bottom of the slow cooker. Sprinkle with salt and pepper. Cut two lemons into thin slices, place several slices atop the onion, reserve the rest. Pour in the half cup of white wine and half cup of water or chicken broth.
Step 3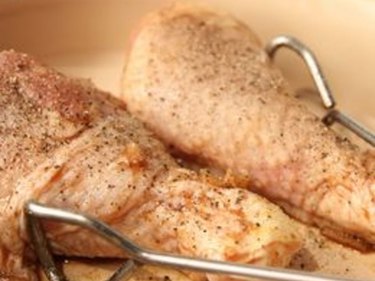 Remove the chicken legs from marinade. Discard the marinade bag together with the herbs, garlic and lemons that have been flavoring the chicken. Salt and pepper the legs.
Step 4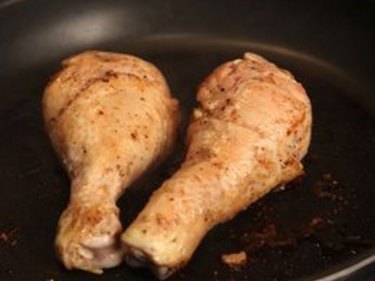 Brown the legs in a nonstick pan or skillet with a small amount of olive oil. This is an optional step to give the skin a browned appearance. (Alternatively, the cooked chicken can be browned briefly under the broiler after cooking, or simply served straight from the slow cooker.)
Step 5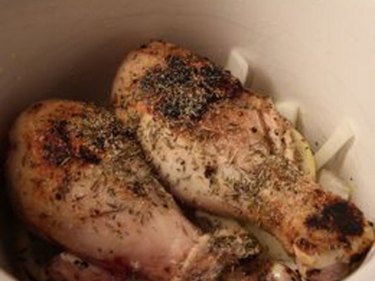 Place the chicken legs atop the lemon slices. Peel up 10 garlic cloves or more to taste--they will soften and mellow during cooking--and sprinkle the garlic over the legs. Tuck lemon slices and sprigs of rosemary and thyme between the pieces of chicken, or sprinkle with remaining teaspoon of dried rosemary and teaspoon of dried thyme.
Step 6
Cook on low for 5 to 7 hours or on high for 3 to 4 hours. Carefully remove the chicken--it will be very tender--from the cooker and cover with foil. As an extra touch, strain the liquid into a small saucepan and simmer to reduce. The sauce can be poured over the chicken. Garnish with lemon wedges and a sprig of thyme or rosemary.
Tip
This recipe is very easy to adapt to give the chicken a variety of international flavors. For Provencal slow cooker chicken legs, substitute oranges instead of lemons, Herbes de Provence in place of the rosemary and thyme, and add a handful of pitted, cured black olives (remove the olives with the chicken before making a sauce). Use taco seasoning, orange juice and lime wedges to create Mexican slow cooker chicken legs, garnish with lime wedges and cilantro. For Ras-el-hanout, a Moroccan spice blend, dried apricots, lemons and a handful of pitted green olives give the dish a North African touch. For a Caribbean flavor use jerk seasoning, orange juice and lime wedges.
Warning
Do not use frozen chicken legs--they can cause a slow cooker ceramic insert to crack.
Discarding the overnight marinade is a safety precaution since the liquids may not be safe at the slow cooker's initial low temperatures. Also wash your hands and preparation surfaces thoroughly after handling uncooked chicken when making slow cooker chicken legs.