Things You'll Need
Silk or fresh focal flowers (roses, lilies, carnations)

Silk or fresh filler flowers (baby's breath)

Green leaves

Floral adhesive glue

Wide elastic band

Pre-made loopy ribbon bow (3/8-inch wide ribbon)

Extra matching ribbon

Scissors

Wire cutters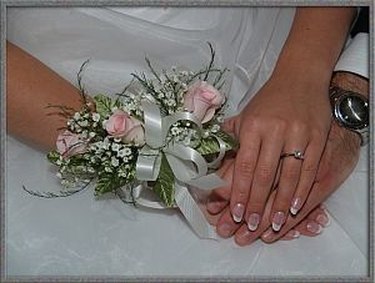 People have been wearing flowers as far back as Ancient Greece, although the modern tradition of giving a corsage to your prom date did not develop until the 20th century. Many girls choose to wear wrist corsages instead of having them placed on their gowns. Instead of purchasing a ready-made wrist corsage, it is possible to make one that incorporates all of the flowers and colors desired.
Step 1
Select the flowers for the wrist corsage. Select one large focal flower and three to four smaller filler flowers.
Step 2
Select the ribbon bow for the wrist corsage. Purchase extra matching ribbon to use as filler.
Step 3
Clip the blooms from the stems so that 1/2 inch of stem remains.
Step 4
Arrange the flowers in a way that's pleasing to you. Start with leaves and filler, then add the focal flowers. This will allow you to see your design before you start gluing.
Step 5
Lay a 6- to 8-inch length of ribbon onto the wide elastic band. Loop the ribbon around attractively to act as a base for the flowers. Glue the ribbon into place with the adhesive glue and allow it to dry.
Step 6
Lay the filler flowers on top of the ribbon on the wide elastic band. Arrange them in the center of the band and glue them in place securely with the adhesive glue. Let the glue dry completely.
Step 7
Tuck several green leaves around the filler flowers for added color. When they look as desired, glue them into place. Allow the glue to dry.
Step 8
Place the largest flower in the center of the elastic band. Arrange the smaller flowers on one side of the large flower. The stems of the small flowers should face toward the large flower. Tuck the ribbon bow on the other side of the large flower. When everything is arranged as desired, carefully glue each piece into place. Allow the glue to dry.
Step 9
Place the wrist corsage in a safe place until prom. If it is made of silk flowers, find a safe place where the flowers will not become crushed. If it is made of fresh flowers, place it in the refrigerator. Make sure the corsage is not in a place in the refrigerator where there is any chance it will freeze.
Tip
Purchase the ready-made ribbon bow at craft or floral stores.
For best results, do not make a fresh flower wrist corsage more than 24 hours before the prom.
You can find elastic bands made of polyester or nylon at most fabric stores.