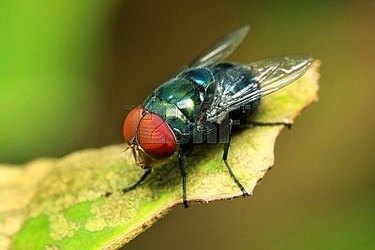 Summer brings flies indoors, especially when you are cooking. Here is a foolproof way to kill them without flyswatters or pesticides. This method also works outdoors around picnic tables, plants or just about anywhere. It also is a repellent to nearby insects. Keep this mixture for on-the-spot use, but away from children. This should not be used on pets.
Step 1
Put about 20 drops of any kind of dish detergent into a spray bottle that holds about 16 oz. I find that empty Windex bottles work well, or any kind of similar sized bottle. The measurements are only approximate, and you can adjust to your own needs.
Step 2
Put about a teaspoon of hydrogen peroxide into the bottle. Fill the bottle about 3/4 full of water, and shake.
Step 3
Spray flies or other insects on windows or wherever they land, QUICKLY, several times. Saturate them. They will die almost immediately. Clean up with paper towel.
Tip
After a summer of fly spraying, you will find that cleaning your windows is a breeze, because you will have a thin film of dish detergent already on your window, so all you need is water and a cloth.
Warning
Do not spray near fish tanks or other sensitive critters. Do not spray colored fabrics as the hydrogen peroxide may cause slight bleaching. You can eliminate the hydrogen peroxide and it still works, but the hydrogen peroxide sanitizes.