Things You'll Need
Frozen beef roast

Crock pot

Beef broth or cream soup

Chopped vegetables

Meat thermometer

Dinner rolls

Frozen hamburger

Frying pan

Nonstick spray

Spatula

Can of Sloppy Joe mix

Hamburger rolls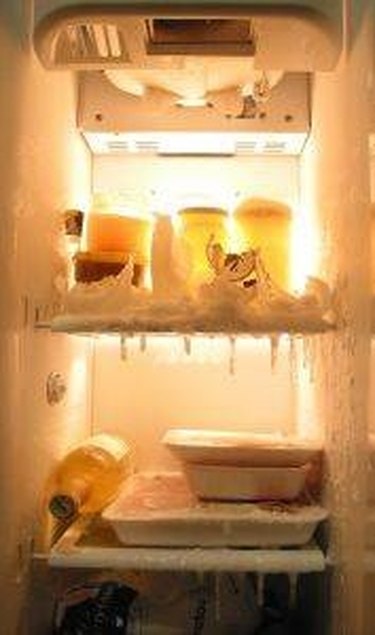 Frozen beef can be cooked in a number of different ways, depending on the cut of the meat. The most important thing to remember when starting your beef from a frozen state is to check the internal temperature before you eat it and to pay close attention to the smell while it is cooking. Sometimes a meat can be bad before it is frozen and you won't be able to smell it while it is frozen. Cooking frozen beef is certainly not the ideal way to cook, but a necessity all of us have run into at one time or another.
Step 1
Place a frozen beef roast in a crock pot. Put in a can of beef broth and then fill the can with water and pour into the crock pot. You can use creamed soups with a can of milk or water, if you prefer. The frozen meat needs liquid to cook at a more even temperature.
Step 2
Allow the beef to cook for an hour or so on high before adding chopped vegetables. Then allow it all to cook together for another four to five hours.
Step 3
Stick a meat thermometer in the roast and check the internal temperature. It should be no less than 160 degrees.
Step 4
Serve this tender roast and vegetables with hot dinner rolls. The leftovers can be frozen and heated back up at a later date.
Step 5
Spray a frying pan with a nonstick spray and allow the pan to heat up. Place 1 lb. of frozen hamburger in the pan and let the bottom just start to thaw on medium heat.
Step 6
Turn the frozen hamburger over and as the other side is starting to thaw, scrape the thawed part off the top and move it off to one side. Try to keep the scraped meat side of the pan off the heat as much as possible.
Step 7
Keep flipping what is left of the frozen meat until you have it all scraped into ground meat again. Then put the whole pan back over the heat and continue to cook the beef. When all the beef is brown, drain off the fat and add a can of Sloppy Joe mix.
Step 8
Cook over medium heat for about five minutes and place on hamburger buns.