Things You'll Need
3 medium squash

2 large sweet onions

1 medium cabbage

1 bell pepper

1 large tomato

¼ cup vegetable oil

Heavy skillet

1 tsp. salt

1 tsp. black pepper

1 cup flour
Yellow crookneck squash is a summer vegetable. You'll know the crookneck squash by the way it's neck curves over, like a crook. This yellow squash can be eaten raw or cooked, by itself or with other vegetables. The yellow crookneck squash is low in calories and full of taste, so the next time you want to enjoy the bounty of a summer garden, try cooking some squash for a light and delicious dish.
Step 1
Peel the yellow crookneck squash and the onions. Chop the cabbage, bell pepper, tomato and the onions into small chunks and slice the squash into thin pieces or small chunks. Put the tomato and squash into separate bowls and the cabbage, onions and bell peppers into another bowl together.
Step 2
Pour the vegetable oil into the heavy skillet and set on the stove. Take a spoon and move the oil over the bottom of the skillet so it becomes coated. Turn the burner to medium heat and let the oil heat up.
Step 3
Add the chopped cabbage, bell peppers and onions to the oil and cook for 2 or 3 minutes. This will help them to finish cooking about the same time as the squash.
Step 4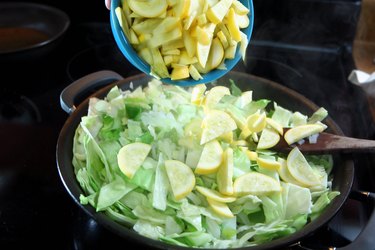 Put the squash in the skillet with the cabbage and onions. Add salt and black pepper and stir all of the vegetables together to ensure even cooking.
Step 5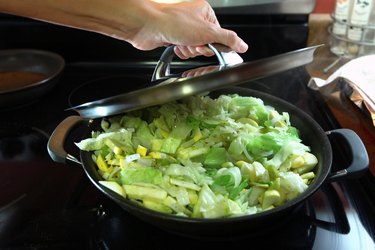 Cover the skillet and turn the burner to low heat. Simmer the squash and other vegetables for 15 minutes. Stir constantly to keep the food from sticking to the bottom of the skillet and burning. Put on plates and eat.
Step 6
Peel 3 yellow crookneck squash and cut them in thin slices. Next, place 2 sheets of paper towel on a plate.
Step 7
Add ¼ cup vegetable oil to a heavy skillet and heat on medium high.
Step 8
Put the flour in a bowl and add the salt and pepper. Stir to mix the seasoning and flour together. Dredge the squash slices through the flour, making sure each one is completely coated.
Step 9
Place as many of the floured squash slices in the hot oil as the skillet will hold without them touching each other.
Step 10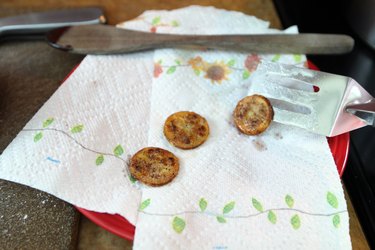 Cook the squash until each side is a light golden brown. Take out of pan and place on the paper towels. Cool slightly before eating.
Tip
Olive oil or butter can be used to cook the squash instead of vegetable oil.