Things You'll Need
Corian care kit

Liquid dishwashing soap

Bottled ammonia

Soft towel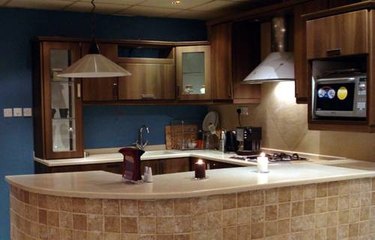 Corian is a modern countertop material made by DuPont and used by kitchen and bathroom designers because of its resilience, beauty and wide variety of colors. The Corian surface is smooth and easy to clean, but sometimes accidents do happen. Over time, your counter may get scratched. Fortunately, the blend of Corian material goes all the way through the slab, so it is easy to repair. Learn how to restore the beauty of your Corian countertop.
Step 1
Obtain a Corian care kit from a local DuPont Corian authorized dealer. Alternatively, care kit packages specifically for Corian surfaces are available online (see link in Resources). These kits contain pads with fine, medium and coarse abrasive sides.
Step 2
Clean the scratched area of the counter with soapy water and bottled ammonia. Rinse thoroughly with clear water to remove all residues. Dry completely with a soft towel.
Step 3
Rub gently over the scratch with a back-and-forth motion, using the fine-grit peach-colored abrasive pad from the Corian care kit. Switch rubbing motions to perpendicular ones; go in the same direction as the scratch. Extend the rubbing strokes several inches beyond the scratch so the sanded area blends with the rest of the surface. Rinse the pad in clear running water repeatedly to keep it free from grit.
Step 4
Wipe and dry the sanded area. Use the aqua green-colored pad with the next finest abrasive to sand over the scratch lengthwise and then sideways. Rinse the pad frequently and wipe off the Corian surface when it feels smooth to the touch.
Step 5
Complete the sanding process with the finest grit gray-colored pad, again with both side-to-side and lengthwise strokes. Be sure to blend the sanded area with the rest of the counter surface so that there are no obvious edges. Rinse off the entire counter and dry.
Tip
Very fine scratches may be buffed out of Corian using a damp cloth and a lightly abrasive countertop cleanser.
Warning
Do not use ammonia formulated for window washing as it can add a film to Corian surfaces.