Things You'll Need
Buttermilk

Fish

Vegetable oil

Deep fryer

1 cup flour

2 tsp black pepper

½ tsp salt

Egg

Strainer

Slotted spoon

Paper towels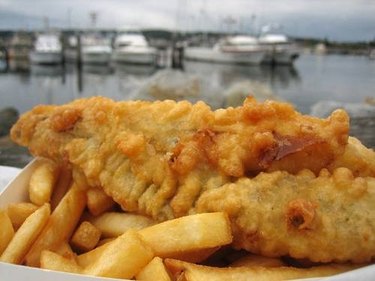 People all over the world enjoy eating fish. There are several ways to cook fish, such as frying it in a deep fryer. With a crispy crust that is formed when fried in hot oil, this is a delicious and quick way to cook fish of any kind. Next time you want to fry fish, try using a deep fryer and then invite your family and friends over for a down home meal that tastes like it came from a restaurant.
Step 1
Cut your fish into small chunks and put in a bowl. Pour enough buttermilk in the bowl to completely cover the fish. Soaking fish in buttermilk will help to remove any fishy smells or taste. Put a lid on the bowl and sit in the fridge for an hour.
Step 2
Put the flour, black pepper and salt in a bowl and stir. Add more or less black pepper and salt, according to your taste.
Step 3
Fill your deep fryer half-way with vegetable oil and heat to the temperature of 375 degrees F. Next, set a strainer over a pan. Place 2 or 3 sheets of paper towels on a plate to further remove excess grease.
Step 4
Remove the bowl of fish out of the fridge. Take the fish out of the bowl and rinse with cool water. Place the fish chunks on a plate and empty the buttermilk down the drain. Mix an egg and 2 cups of buttermilk in a bowl and add the chunks of fish.
Step 5
Take the fish chunks from the buttermilk mixture and dredge them through the seasoned flour. Carefully drop a small amount of battered fish pieces into the deep fryer. If too many fish are cooked at once, the batter won't crisp correctly. Don't use a basket when cooking fish in the deep fryer or the batter may stick to the basket.
Step 6
Fry the fish for 4 to 5 minutes or until the fish pieces float to the top and are golden brown. Use a slotted spoon or tongs to remove the fish from the hot oil and put in the strainer. Continue to fry the rest of the fish in this manner.
Step 7
Move the drained fish from the strainer to the paper towel covered plate. When all the fish pieces have finished cooking, turn off the deep fryer and enjoy your deep fried fish.