Shelves are a great way to add a three-dimensional look to your walls. Empty or cluttered shelves, however, detract from the overall look of a room. If you have shelves, make sure you decorate them in a pleasing way. You probably have items in your house and yard that you can use right now to decorate your shelves for free.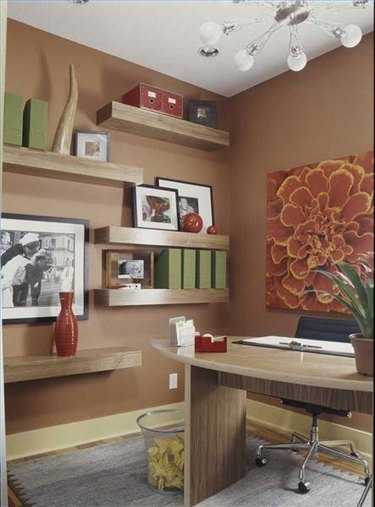 Things You'll Need
Vase

Shelves

Photographs

Other Decorations Of Your Choice

Candles Of Varying Sizes

Books

Bowl
Step 1
Decide on the theme of the room. If the room is minimalist and upscale, decorate your shelves with sleek, modern items. If the shelves are in a room that is rustic, natural items will work well.
Step 2
Place tall items on the shelves. Shelves look best when decorated with items of varying heights. Start with one or two tall items, which will be your focal point. This can be tall candles, a vase or even a stack of old books.
Step 3
Add shorter items around the tall focal points. For example, some short, fat candles look good next to tall, sleek ones. A tall vase can be complemented by a short bowl in a similar glaze.
Step 4
Make it personal with photographs or collectibles. Keep it simple by putting all the photographs in matching frames, or have them all printed in black-and-white for an interesting look. Collectibles should not be crowded onto the shelves but given plenty of room to shine.
Step 5
Make it functional. Shelves are great for holding things like DVDs or CDs, especially in cramped quarters. You can even put a small lamp on a shelf and use it in a reading corner if there is no room for a side table.