Things You'll Need
Vase

Silk greenery

Silk flowers

Glass marbles (optional)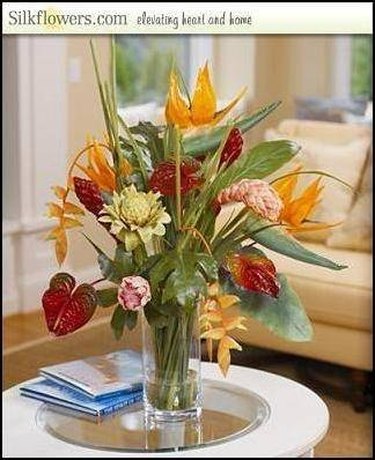 By creating your own silk flower arrangements, you can choose any floral design you wish. Silk flowers are always in bloom, unlike fresh flowers. Arranging silk flowers in a vase requires following simple steps with a little creativity; no skill or talent is required. In addition to home decor, if you are planning a wedding or another type of celebration, you can make your own decorations using vases filled with silk flowers.
Step 1
Choose a vase in proportion to the size of the silk flowers you will arrange.
Step 2
Place some short silk greenery around the edges of the vase to help hold the flowers in place once they are inserted. The greenery only needs to be the height of the rim of the vase. Adding glass marbles to the vase will also help keep the stems in place.
Step 3
Group the silk flowers in the vase according to colors and textures. Do not overcrowd the flowers. If you want to use more flowers for a fuller arrangement, buy a larger vase.
Step 4
Use contrasting types of flowers. For example, place a cluster of silk hydrangeas on one side and a bunch of roses on the other. Fill the space between the first two flower groups with a nice cluster of large mums and other spaces with a few tall sunflowers.
Step 5
Use several different heights for the silk flower arrangement. Keep the center flowers taller than the outermost flowers. Placing a few silk flowers a little deeper than the rest and a few slightly higher will enhance the creativity of the arrangement.
Step 6
Once the silk flowers are in place, move them around until you are pleased with the way your arrangement looks.